The use of this seal confirms that this activity has met HR Certification Institutes (HRCI) criteria for recertification credit pre-approval.
This activity has been approved for 1 HR (General) recertification credit hours toward aPHR, PHR, PHRca, SPHR, GPHR, PHRi and SPHRi recertification through HR Certification Institute (HRCI). Please make note of the activity ID number on your recertification application form. For more information about certification or recertification, please visit the HR Certification Institute website at www.hrci.org." ...more
---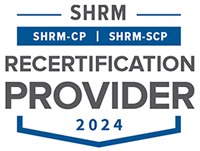 Traininng.com LLC is recognized by SHRM to offer Professional Development Credits (PDCs) for the SHRM-CP® or SHRM-SCP®.
?
1-hour educational program = 1 PDC.
1-hour and 15 minute concurrent conference session = 1.25 PDCs.
3-hour e-learning course = 3 PDCs.
Overview
Is coronavirus compensable under WC? The answer to that question is "maybe." While WC laws provide compensation for "occupational diseases" that arise out of and in the course of employment, many state statutes exclude "ordinary diseases of life" (e.g., the common cold or flu). There are occupational groups that arguably would have a higher probability for exposure such as healthcare workers.
However, even in those cases, there may be uncertainty as to whether the disease is compensable. Would time away from work during recovery be considered "temporary disability" or is it just normal "sick time"? While these questions linger, several states have taken steps to address compensability for WC.
It remains to be seen if other states will take the same measures relative to WC. However, for general health insurance, at least 10 states have issued mandates for coverage of coronavirus. The mandates vary by state, but they include coverage for testing and visits to emergency rooms or urgent care facilities either in-network or out-of-network without deductibles or copays. These measures, if expanded to more states, could have the impact of limiting claim activity in the WC market in those cases where only testing or quarantine are necessary.
With a focus on worker safety, employers have begun to implement a number of policies related to coronavirus. These include limiting nonessential travel, maximizing telecommuting options, and being flexible on sick leave policies to encourage employees to stay home when they are ill. Some companies have also cancelled large in-person industry conferences.
The Centers for Disease Control and Prevention has issued its own guidelines related to travel with specific recommendations for the cruise industry.

Why you should Attend
Workers' compensation generally covers diseases that employees' contract because of their work-or in legal jargon, occupational diseases "arising out of and in the course of employment."
Although common infectious diseases like the flu aren't considered occupational illnesses, COVID-19 might be treated differently in some cases.
Specific eligibility requirements for occupational diseases vary from state to state, but you typically need to demonstrate that:
The particular nature of your job caused your illness or put you at a higher risk of exposure to the virus than the general public
You contracted the illness as a result of a specific exposure that happened while you were doing your job.
When an infectious disease becomes widespread in the community, as in the case of the coronavirus pandemic, it can be particularly difficult to meet both of those requirements.
Clearly, first responders and healthcare workers face a particular danger of being exposed to COVID-19, especially in the midst of a pandemic and shortages of proper protective equipment. But workers in other occupations-like high-volume retail or airport screeners-might also be able to show that the nature of their work put them at higher risk than the general population.
Areas Covered in the Session
How Workers Compensation benefits are determined
Eligibility standards for Workers Compensation benefits
What are the states doing/saying about eligibility
How to determine if your employees may be eligible
How to protect yourself from fraudulent claims
Who Will Benefit
Society for Human Resource Management
SHRM local chapters
Association for Talent Development
College and University Professional Association for Human Resources
HR People + Strategy
Human Capital Institute
International Association of Administrative Professionals
Any industry professional will benefit but those in hospitality, retail, health care and transportation will particularly benefit.
Speaker Profile
Greg Chartier is Principal of The Office of Gregory J Chartier, a Human Resources Consulting firm and is a well-known management consultant, educator and speaker and author of the recently published What Law Did You Break Today? His practice is based on the Business Partner Model of Human Resources, which places its' emphasis on outsourcing, the use of technology to gain efficiencies and the improvement of managerial skills.

Greg is a thought-provoking professional speaker and his wisdom and insights into management and leadership make him an electrifying speaker and seminar leader. His seminars are customized to reinforce company mission, vision, values and culture and the content is practical for team leaders, managers, supervisors and executives. His philosophy is simple: management is a skill and you can be a better manager by developing your skills.

He has a Bachelors Degree from The Citadel, the Military College of South Carolina, an MBA from Rensselaer Polytechnic Institute and his Ph.D. in Human Resources Management from Madison University. Greg is certified by the Society for Human Resources Management (SHRM) as a Senior Professional in Human Resources (SCP) and as both a Senior Professional and a Global Professional in Human Resources (SPHR and GPHR) by HRCI, the Human Resource Certification Institute. He is a former Board Member of the Business Council of Westchester, where he was the Chair of the Human Resources Council and a member of the Executive Committee. He is a national member of SHRM and a local SHRM chapter, the Westchester Human Resources Management Association. He was also a member of the Board of the Child Care Council of Westchester.

Greg is involved in the Certification Program for Human Resources Management at Pace University, which includes the preparatory program for the Human Resources Professional Examinations and the Essentials in Human Resources Management Program and well as the Continuing Education Programs including HRCI and SHRM recertification. He is also a member of the faculty of the New York Medical College in Valhalla, NY.