The use of this seal confirms that this activity has met HR Certification Institutes (HRCI) criteria for recertification credit pre-approval.
This activity has been approved for 1 HR (General) recertification credit hours toward aPHR, PHR, PHRca, SPHR, GPHR, PHRi and SPHRi recertification through HR Certification Institute (HRCI). Please make note of the activity ID number on your recertification application form. For more information about certification or recertification, please visit the HR Certification Institute website at www.hrci.org." ...more
---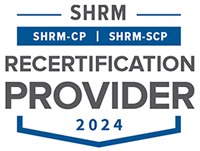 Traininng.com LLC is recognized by SHRM to offer Professional Development Credits (PDCs) for the SHRM-CP® or SHRM-SCP®.
?
1-hour educational program = 1 PDC.
1-hour and 15 minute concurrent conference session = 1.25 PDCs.
3-hour e-learning course = 3 PDCs.
Overview
United States Customs and Immigration Services (USCIS) made significant changes to the "Handbook for Employers: Guidance Completing Form I-9." Form I-9 itself was updated on October 21, 2019. Now, Immigration enforcement is on the rise. With increased funding and driven by public outcry, Immigration and Customs Enforcement, or ICE, is on the audit trail, ready to levy big fines for employers not in compliance.
The Form I-9 Employment Verification Form appears simple, yet the U.S. Citizenship and Immigration Services (USCIS) has issued a 65-page handbook explaining how employers should go about executing it. Unsuspecting employers are often surprised to learn that failure to execute an I-9 properly can lead to steep fines, penalties, and even criminal liability. This live webinar provides non-nonsense, practical training on what every employer must do to meet the federal government's requirements for employment verification.
Form I-9 compliance goes beyond just filling out the form. It requires that every business have Form I-9 policies and procedures in place that cover items such asWhy I-9 Compliance is important How to execute an I-9 properly How to maintain, store, and destroy I-9 records.
In order for a business to be compliant with Form I-9 federal regulations, that business must have in place written policies and procedures that address a variety of issues that relate to Form I-9 compliance.
This training session covers these issues in detail and provides the information and practice tips you need to implement I-9 policies and procedures that will put your business in the best position possible to defend an audit of your I-9s by ICE.

Why you should Attend
The U.S. Immigration & Customs Enforcement (ICE) is going all-out in its "bold new audit initiative" to crack down on employers who violate immigration laws. Administrative I-9 audits are ICE's tool of choice.
Too often, company execs and HR managers assume their I-9 compliance practices are in order when, in fact, their records and policies are littered with mistakes, leaving the business and individuals open to fines, lawsuits, and jail time. Are you sure that your I-9 practices can pass muster?
It can be difficult to keep up with all of the most current information concerning immigration regulations, including the most recent employment verification rules and I-9 form changes. Violating federal law and risking huge repercussions for yourself and your organization is not an option.
You need to ensure your organization is correctly filling out the I-9 form for each employee, collecting proper documentation and complying with recordkeeping best practices.

Areas Covered in the Session
How to avoid common pitfalls of I-9 employment verification
Conducting an internal I-9 audit - before the Feds do
How to properly correct erroneous or missing data on an I-9
Proper maintenance, retention, and destruction of Forms I-9
Overview of recent governmental guidance
Tips for your name change policy and procedure
Who Will Benefit
HR Professionals
Managers
Supervisors
Business Owners
Speaker Profile
Steven G. Meilleur, Ph.D., SPHR – is President, CEO – PRAXIS Management Solutions, LLC, a New Mexico-based management consulting firm specializing in human resources, employee relations, leadership, training & organizational development, organizational research and assessment, strategic & operational planning, and non-profit organization management and governance. Dr. Meilleur has more than 40 years of management and executive-level experience in human resources, risk management, and organizational management in the private non-profit public, and private for-profit sectors.

Dr. Meilleur also serves as Senior Vice-President and Risk Services Consultant for Human Resources and Employment with Poms & Associates, a national risk services and insurance brokerage firm. His previous work experience includes public, private, and nonprofit organizations, in executive and management capacities.

He is also on the faculty of the UNM School of Public Administration in the graduate program, teaching in the areas of human resource management, nonprofit organization management, leadership, dispute resolution, organizational change, and human resource development. He has spoken at numerous conferences and workshops across the country, and is a published author in the areas of human resources, marketing, leadership and management development, organizational change and innovation, non-profit organization management, and board development.

Dr. Meilleur received a BA in English Literature and Education from Bucknell University, an Executive MBA from the University of New Mexico's Anderson Graduate School of Management, and his Ph.D. in Leadership and Organizational Learning from UNM. He received his certification as a Senior Professional in Human Resources (SPHR) by the Society for Human Resource Management in 1995.