The use of this seal confirms that this activity has met HR Certification Institutes (HRCI) criteria for recertification credit pre-approval.
This activity has been approved for 1 HR (General) recertification credit hours toward aPHR, PHR, PHRca, SPHR, GPHR, PHRi and SPHRi recertification through HR Certification Institute (HRCI). Please make note of the activity ID number on your recertification application form. For more information about certification or recertification, please visit the HR Certification Institute website at www.hrci.org." ...more
---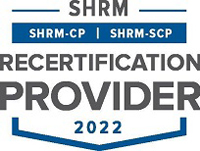 Viewing this webinar, its entirety qualifies for a recertification credit hour that may be counted toward SHRM-CP and SHRM-SCP recertification from SHRM. Credit is awarded based on the actual educational time spent in the program.
?
1-hour educational program = 1 PDC.
1-hour and 15 minute concurrent conference session = 1.25 PDCs.
3-hour e-learning course = 3 PDCs.
Overview
Are you struggling to differentiate your brand from other competitors? Having a hard figuring out how to tell the culture story of your organization? Do you feel like you have a great workplace culture but don't know how to get the word out about it? You're not alone. If you have significant hiring needs but know something is missing from your strategy then here's where to start.
An employer brand is your opportunity to bring clarity, velocity, and magnetism to your talent acquisition program and really stand out when it comes to being an employer of choice. While any organization can post job descriptions and pay for Glassdoor premium listings, quality prospects really want to know about your culture not just the perks. So how do you go "Inside Out" with your culture to attract high quality candidates to your brand?
In this webinar you'll learn what your marketing staff won't tell you: How to bring a brand to life. Except this isn't for sales, this is for talent! You'll learn what a brand is (and isn't). You'll learn the 5 steps of bringing a brand to life and be able to start sketching your plan out on a single piece of paper. You'll learn how to involve Marketing and the C Suite in the process, how to get extra budget for your project, how to put it on a calendar and move to action as fast as possible!

Why you should Attend
Are you just not seeing the right volume of applicants to your open positions?
Do you feel like your workplace culture is great but invisible to the outside?
Are you getting mediocre applicants and just not seeing top talent apply?
Do you feel like paid listings and Glassdoor just aren't cutting it anymore?
Are you jealous of what your marketing department is up to and want some of the creative action?
Do you feel like you're constantly losing the talent war to your competitors?
Areas Covered in the Session
Understanding what a recruiting brand is
Bringing clarity to your organization's key differentiators
Understanding the role of culture in hiring
Developing a plan for going "inside out" with your culture
Understanding how to use culture to create an attractional hiring strategy
Who Will Benefit
Director of Human Resources
Chief Human Resources Officer
Chief People Officer
Recruitment Marketing Director
Corporate Recruiter
Human Resources Manager
Talent Acquisition Manager
Employer Brand Manager
Benefits Manager
Recruiter
Human Resources Generalist
Human Resources Coordinator
Technical Recruiter
Virtual Recruiter
Human Resources Assistant
Chief Talent Officer
Vice President of Human Resources
VP of Talent Acquisition (or VP of Recruiting)
VP of Talent Management (or VP Talent Development)
Speaker Profile
A natural-born creative, Jon Barnes serves as a leader, mentor, strategist, and consultant, having worked with some of the world's most recognizable brands across a variety of different industries.

Charging ahead with the realization that creativity can be applied to any profession, Jon has run his own advertising and design firm, worked with youth in full-time ministry, "done time" in legal marketing, been a YouTube celebrity, content marketing expert, and now leads Rebel Haiku, a marketing consultancy and training dojo in Ellicott City, MD. Jon's passion is to equip, inspire, and unleash those he works with, helping professionals and brands identify and live out what truly makes them unique.

With experience in brand strategy, content, coaching, and creativity, Jon brings a unique perspective to the table for any endeavor.

After initially pursuing a degree in automotive design, Jon went on to obtain a BA in Bible and Theology from Washington Bible College, a Master's Degree in Modern Studies from Loyola University Maryland, and after flirting with a Doctoral program eventually decided that making YouTube videos was a better investment of energy. Jon is also the author of Creative Threads, a career-finding and entrepreneurship handbook for students and young professionals (2018, Apprentice House Publishers).