The use of this seal confirms that this activity has met HR Certification Institutes (HRCI) criteria for recertification credit pre-approval.
This activity has been approved for 1.5 HR (General) recertification credit hours toward aPHR, PHR, PHRca, SPHR, GPHR, PHRi and SPHRi recertification through HR Certification Institute (HRCI). Please make note of the activity ID number on your recertification application form. For more information about certification or recertification, please visit the HR Certification Institute website at www.hrci.org." ...more
---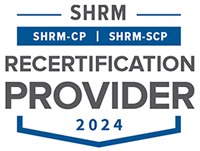 Traininng.com LLC is recognized by SHRM to offer Professional Development Credits (PDCs) for the SHRM-CP® or SHRM-SCP®.
?
1-hour educational program = 1 PDC.
1-hour and 15 minute concurrent conference session = 1.25 PDCs.
3-hour e-learning course = 3 PDCs.
Overview
On March 29, 2021, the U.S. Equal Employment Opportunity Commission ("EEOC") announced that data collection for 2019 and 2020 EEO-1 Component 1 filing will open on Monday, April 26, 2021, and that employers will have until Monday, July 19, 2021 to submit their data for those years.
Each year, employers with 100 or more employees (and federal contractors with 50 or more employees) must file EEO-1 Component 1 data, which consists of demographic information, such as race, gender and ethnicity information, of the employer's workforce by job category.
As you may recall, in 2020, the EEOC delayed the opening of the 2019 EEO-1 Component 1 Data Collection due to the COVID-19 public health emergency. Therefore, this year, employers are required to make two submissions: one with 2019 EEO-1 data and one with 2020 EEO-1 data.
The EEOC is extending the data collection period this year from 10 weeks to 12 weeks to provide employers additional time to file, acknowledging that the global COVID-19 pandemic continues to impact workplaces across the country and recognizing that the requirement to submit two years of EEO-1 data is a substantial undertaking.
Why you should Attend
You should attend this webinar because you will learn about the most recent court decision and information available regarding annual government EEO-1 reporting. You will get clarity on the new EEO-1 reporting requirements and ensure accurate, timely filing.
You will be provided resources and best practices in migrating from current EEO-1 requirements to the new EEO-1 Form, including Component 1 and Component 2 of the Report and other pertinent information. The deadline for filing your EEO-1 report is right around the corner! It is vitally important that you prepare this form correctly as the Equal Employment Opportunity Commission and the Office of Federal Contract Compliance Programs use your information to determine whether your company should be audited.
Areas Covered in the Session
Why is the EEO-1 Reporting so Complicated?
What is the reporting period?
Who must file the EEO-1 Report
Step-by-step basics of filing the form
Understand the race, ethnicity, job categories
How to comply with confidentiality requirements
Practical suggestions on how to legally survey and classify your employees
What federal contractors can't ignore
Which methods of collecting data from your workers are the most affordable and legally compliant
Specifications for submitting EEO-1 reports, including how and when to file
The standard for collecting demographic information
Certification of results, recordkeeping requirements and more
The best way to steer clear of penalties for noncompliance
Collecting employee information when your organization has multiple employment locations
EEOC's and OFCCP's change in enforcement: What employers need to be aware of
Using your EEO-1 report to find potential pay discrimination
What about the status of the Pay Data Reporting
Reporting pay data - whats new for 2021?
How about state pay data requirements
Who Will Benefit
All Employers
Business Owners
Company Leadership
Compliance professionals
Payroll Administrators
HR Professionals
Compliance Professionals
Managers/Supervisors
Employers in all industries
Small Business Owners
All Employers
Large Business Owners
Company Leadership
HR professionals
Speaker Profile
Margie Faulk, a senior level human resources and compliance professional with over 14 years of HR management and compliance experience. A current Compliance Officer/Advisor for HR Compliance Solutions, LLC. Margie has worked as an HR and Compliance advisor for major corporations and small businesses in the small, large, private, public and Non-profit sectors.

This includes Federal Contracting in the defense, military, anti-Terrorism and Apache Helicopter Training Simulations with Federal Acquisition Regulations (FAR), Federal Sentencing Guidelines (FSG) and Office of Federal Contract Compliance Program (OFCCP). Margie is bilingual (Spanish) fluent and Bi-cultural.

Margie's focus has expanded to Global Workplace Compliance in International, multi-state, multi-National, state and local workplace compliance which includes workplace compliance in other countries like the UK, Canada, France, Brazil, China, Africa, Mexico and India, just to name a few. Margie has created and presented seminars/webinars for many compliance institutes. These national training providers, offer compliance training to HR professionals, business owners and companies interested in having their company compliant with workplace and industry regulations. Margie holds professional human resources certification (PHR) from the HR Certification Institution (HRCI) and SHRM-CP certification from Society for Human Resources Management. Margie is a member of the Society of Corporate Compliance & Ethics (SCCE).