The use of this seal confirms that this activity has met HR Certification Institutes (HRCI) criteria for recertification credit pre-approval.
This activity has been approved for 1 HR (General) recertification credit hours toward aPHR, PHR, PHRca, SPHR, GPHR, PHRi and SPHRi recertification through HR Certification Institute (HRCI). Please make note of the activity ID number on your recertification application form. For more information about certification or recertification, please visit the HR Certification Institute website at www.hrci.org." ...more
---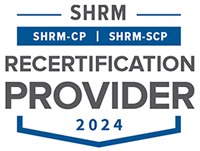 Traininng.com LLC is recognized by SHRM to offer Professional Development Credits (PDCs) for the SHRM-CP® or SHRM-SCP®.
?
1-hour educational program = 1 PDC.
1-hour and 15 minute concurrent conference session = 1.25 PDCs.
3-hour e-learning course = 3 PDCs.
Overview
There are some basic concepts that should be followed in any conversation with our employees but for the compensation conversation it is essential that we are as transparent and truthful as we can be.


Why you should Attend
The compensation conversation, especially in a new environment of transparency has never been more important. Beyond the fact that employees take these conversations and the comparisons that ultimately result from them as person.  As a result, questions, concerns and conversations about compensation come with enormous emotional baggage.
This is particularly problematic since the compensation conversation is also directly connected to performance and performance comparisons. In fact, these conversations almost guarantee that your employees how some basic and critical questions in their minds, whether-or- not they ask them outload.
These questions include:
Will I be getting a raise? How much will it be?
Is there a promotion or transfer in my future? When?
How is my pay determined? How do I compare to others in similar jobs?
Am I being paid appropriately for my skills and efforts?
This webinar will examine these critical compensation conversations and help the participant to prepare and conduct them appropriately.
Areas Covered in the Session
When an employee's pay is already too high for comparative purposes
When the employee is disappointed with their raise or lack of one
When the employee's performance does not justify an increase in pay
The employee brings their own research, from the internet, on how much they should be paid
In addition, the webinar will provide specific examples and details of how to respond to these types of issues.
Who Will Benefit
Business Owners
Supervisors and Managers
Human Resource Professionals
Speaker Profile
Greg Chartier is Principal of The Office of Gregory J Chartier, a Human Resources Consulting firm and is a well-known management consultant, educator and speaker and author of the recently published What Law Did You Break Today? His practice is based on the Business Partner Model of Human Resources, which places its' emphasis on outsourcing, the use of technology to gain efficiencies and the improvement of managerial skills.

Greg is a thought-provoking professional speaker and his wisdom and insights into management and leadership make him an electrifying speaker and seminar leader. His seminars are customized to reinforce company mission, vision, values and culture and the content is practical for team leaders, managers, supervisors and executives. His philosophy is simple: management is a skill and you can be a better manager by developing your skills.

He has a Bachelors Degree from The Citadel, the Military College of South Carolina, an MBA from Rensselaer Polytechnic Institute and his Ph.D. in Human Resources Management from Madison University. Greg is certified by the Society for Human Resources Management (SHRM) as a Senior Professional in Human Resources (SCP) and as both a Senior Professional and a Global Professional in Human Resources (SPHR and GPHR) by HRCI, the Human Resource Certification Institute. He is a former Board Member of the Business Council of Westchester, where he was the Chair of the Human Resources Council and a member of the Executive Committee. He is a national member of SHRM and a local SHRM chapter, the Westchester Human Resources Management Association. He was also a member of the Board of the Child Care Council of Westchester.

Greg is involved in the Certification Program for Human Resources Management at Pace University, which includes the preparatory program for the Human Resources Professional Examinations and the Essentials in Human Resources Management Program and well as the Continuing Education Programs including HRCI and SHRM recertification. He is also a member of the faculty of the New York Medical College in Valhalla, NY.