The use of this seal confirms that this activity has met HR Certification Institutes (HRCI) criteria for recertification credit pre-approval.
This activity has been approved for 1.25 HR (General) recertification credit hours toward aPHR, PHR, PHRca, SPHR, GPHR, PHRi and SPHRi recertification through HR Certification Institute (HRCI). Please make note of the activity ID number on your recertification application form. For more information about certification or recertification, please visit the HR Certification Institute website at www.hrci.org." ...more
---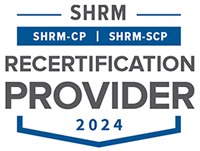 Traininng.com LLC is recognized by SHRM to offer Professional Development Credits (PDCs) for the SHRM-CP® or SHRM-SCP®.
?
1-hour educational program = 1 PDC.
1-hour and 15 minute concurrent conference session = 1.25 PDCs.
3-hour e-learning course = 3 PDCs.
Overview
Drug use and abuse have been an ongoing topic for discussion by employers for decades. In fact, pre-employment drug testing is conducted by more than 80% of US employers. In the past few years, however, changes in the social and legal environment, particularly at the state level, have brought new attention to the concerns over drug use. In addition, the misuse of prescription drugs, in particular opioids, has raised new concerns for employers over safety and security.
What do employers need to know about the current environment and what can they do to protect their employees and the firm from problems related to drug use and abuse.
Employees who abuse drugs, including illegal drugs, prescription drugs, and over-the-counter drugs, either on their own time or at work, pose a significant and wide-ranging problem for employers, managers, and co-workers. These problems can include diminished job performance, lower productivity, absenteeism, tardiness, turnover, and increased medical and workers' compensation bills. Employees who abuse drugs can also make the workplace more dangerous and can expose employers to increased risk of legal liability.
Why you should Attend
The present trend toward legalization suggests that more states will alter their drug testing laws to account for the legalization of marijuana. This creates a need for employers to maintain a safe and drug-free workplace in the environment created by these new regulations.
Every industry and every employer are affected, in some way, by the legalization trend. Of particular concern is the legalization of the recreational use of marijuana. It is always better to be proactive rather than reactive and human resource professionals are wise to prepare for the coming changes in their state laws.
Areas Covered in the Session
The changing societal and legal environment concerning marijuana and prescription drugs
The current state of the Federal government's view of drug use, in particular, the Drug Enforcement Agency and the Food and Drug Administration
The changing types of drugs and the challenge to employers to anticipate the impact on their workforce
What to do about your current pre-employment drug testing program
What changes to your policies may be necessary for states that allow medical marijuana and/or recreational marijuana? 
Who Will Benefit
Human Resource Supervisor
Human Resource Manager
VP Human Resources
Director of Human Resources 
Small Business Owners and Managers
Other Senior HR Staff
Senior staff in Finance, Information Management, or Facilities
Speaker Profile
Greg Chartier is Principal of The Office of Gregory J Chartier, a Human Resources Consulting firm and is a well-known management consultant, educator and speaker and author of the recently published What Law Did You Break Today? His practice is based on the Business Partner Model of Human Resources, which places its' emphasis on outsourcing, the use of technology to gain efficiencies and the improvement of managerial skills.

Greg is a thought-provoking professional speaker and his wisdom and insights into management and leadership make him an electrifying speaker and seminar leader. His seminars are customized to reinforce company mission, vision, values and culture and the content is practical for team leaders, managers, supervisors and executives. His philosophy is simple: management is a skill and you can be a better manager by developing your skills.

He has a Bachelors Degree from The Citadel, the Military College of South Carolina, an MBA from Rensselaer Polytechnic Institute and his Ph.D. in Human Resources Management from Madison University. Greg is certified by the Society for Human Resources Management (SHRM) as a Senior Professional in Human Resources (SCP) and as both a Senior Professional and a Global Professional in Human Resources (SPHR and GPHR) by HRCI, the Human Resource Certification Institute. He is a former Board Member of the Business Council of Westchester, where he was the Chair of the Human Resources Council and a member of the Executive Committee. He is a national member of SHRM and a local SHRM chapter, the Westchester Human Resources Management Association. He was also a member of the Board of the Child Care Council of Westchester.

Greg is involved in the Certification Program for Human Resources Management at Pace University, which includes the preparatory program for the Human Resources Professional Examinations and the Essentials in Human Resources Management Program and well as the Continuing Education Programs including HRCI and SHRM recertification. He is also a member of the faculty of the New York Medical College in Valhalla, NY.