The use of this seal confirms that this activity has met HR Certification Institutes (HRCI) criteria for recertification credit pre-approval.
This activity has been approved for (General) recertification credit hours toward aPHR, PHR, PHRca, SPHR, GPHR, PHRi and SPHRi recertification through HR Certification Institute (HRCI). Please make note of the activity ID number on your recertification application form. For more information about certification or recertification, please visit the HR Certification Institute website at www.hrci.org." ...more
---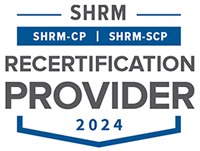 Traininng.com LLC is recognized by SHRM to offer Professional Development Credits (PDCs) for the SHRM-CP® or SHRM-SCP®.
?
1-hour educational program = 1 PDC.
1-hour and 15 minute concurrent conference session = 1.25 PDCs.
3-hour e-learning course = 3 PDCs.
Overview
Employment-based immigration is crucial for employers to find the talented workers they need. Are you certain your organization is in full compliance with Federal immigration laws, including USCIS Forms I-9, E-Verify, H-1B Visas, and more? Are you confident that your organization is in full compliance with federal immigration laws, or do you risk being assessed costly fines - or worse - for potential violations?
Immigration law is one of the most pertinent and publicized issues in the United States right now. Businesses across all industries and of all sizes are being affected. More than ever before, the courts are penalizing organizations like yours for failing to comply with complex and ever-changing immigration regulations.

Why you should Attend
It is a real challenge to keep up with rapidly changing immigration regulations, including the most recent employment verification rules and I-9 form changes. Violating federal law and risking huge repercussions for your organization is not an option. 

Immigration law training course and gain essential information about today's ever-changing federal immigration laws and the issues on which you need to focus to ensure legal compliance. Find out how these laws impact the way you do business and develop a system that helps you stay out of legal trouble. In this session, you'll get the information you need to ensure your organization is correctly filling out the I-9 form for each employee, collecting proper documentation, and complying with recordkeeping best practices.
Areas Covered in the Session
Basic principles of work-related immigration law
Enforcement trends, including ICE audits
Writing and revising your required I-9 and E-Verify internal policies
USCIS Form I-9 changes, tips, and traps 
Up-to-date information on the e-Verify program
Best practices when hiring or continuing to employ foreign and domestic workers
Who needs a work visa, and when?
Types and limitations of temporary visas
H-1Bs, foreign students, and transferees
Green cards, labor certification, and the quota system
Corporate policy tips and recommendations
Who Will Benefit
HR Professionals
Managers
Business Owners
Speaker Profile
Steven G. Meilleur, Ph.D., SPHR – is President, CEO – PRAXIS Management Solutions, LLC, a New Mexico-based management consulting firm specializing in human resources, employee relations, leadership, training & organizational development, organizational research and assessment, strategic & operational planning, and non-profit organization management and governance. Dr. Meilleur has more than 40 years of management and executive-level experience in human resources, risk management, and organizational management in the private non-profit public, and private for-profit sectors.

Dr. Meilleur also serves as Senior Vice-President and Risk Services Consultant for Human Resources and Employment with Poms & Associates, a national risk services and insurance brokerage firm. His previous work experience includes public, private, and nonprofit organizations, in executive and management capacities.

He is also on the faculty of the UNM School of Public Administration in the graduate program, teaching in the areas of human resource management, nonprofit organization management, leadership, dispute resolution, organizational change, and human resource development. He has spoken at numerous conferences and workshops across the country, and is a published author in the areas of human resources, marketing, leadership and management development, organizational change and innovation, non-profit organization management, and board development.

Dr. Meilleur received a BA in English Literature and Education from Bucknell University, an Executive MBA from the University of New Mexico's Anderson Graduate School of Management, and his Ph.D. in Leadership and Organizational Learning from UNM. He received his certification as a Senior Professional in Human Resources (SPHR) by the Society for Human Resource Management in 1995.