The use of this seal confirms that this activity has met HR Certification Institutes (HRCI) criteria for recertification credit pre-approval.
This activity has been approved for (General) recertification credit hours toward aPHR, PHR, PHRca, SPHR, GPHR, PHRi and SPHRi recertification through HR Certification Institute (HRCI). Please make note of the activity ID number on your recertification application form. For more information about certification or recertification, please visit the HR Certification Institute website at www.hrci.org." ...more
---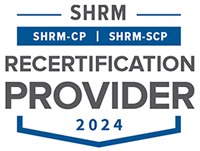 Traininng.com LLC is recognized by SHRM to offer Professional Development Credits (PDCs) for the SHRM-CP® or SHRM-SCP®.
?
1-hour educational program = 1 PDC.
1-hour and 15 minute concurrent conference session = 1.25 PDCs.
3-hour e-learning course = 3 PDCs.
Overview
The Family Medical Leave Act (FMLA) has been challenging employers since its passage in 1993. Long definitions, specific timelines and counter-intuitive rules leave even experienced human resource practitioners questioning how to handle FMLA and related matters
More than any other regulation, act or rule, FMLA affects your employees on a personal level. When your employees come to you for approval of FMLA time, they are likely facing a life-changing event - be it an illness, a death in the family, a new child, an injury or the care of a parent, among others.
Sometimes "no" is the only answer you can give-legally. But you want to be 100% sure that you're denying leave based on facts, not hunches. Or, conversely, approving leave based on facts, not on an emotional employee's pleas. The only way to protect your company from potential legal backlash is to let the law guide you. That's what this critical workshop will do for you…get you up to date on the facts.
Why you should Attend
Do you really know FMLA as well as you should? Does your organization have a thorough policy that covers all of the situations you might face in administering FMLA? If an employee tries to take advantage of FMLA, would you know how to handle it?
The Family and Medical Leave Act (FMLA) is a 1993 law that allows qualified employees to leave for up to 12 weeks per year for qualifying medical conditions, to care for seriously ill family members and to expand their families. Whether an employee asks to leave under this program or not, all employees who qualify for FMLA leave must be granted it correctly.
This in-depth webinar will cover the basic of FMLA administration, and much more, including:
Evaluate the "Certification of Health Care Provider" and how to get all the information you need
Handle Incomplete Certifications
Address the employee's Intent to return to work or intent not to return to work
Assess the employer's request for Fitness for Duty Certification/Return to Work Note
Don't get caught unprepared. Your organization could end up in a tangled legal web if you're not familiar with the intricacies of FMLA. With every new court case, the FMLA becomes better defined - and sometimes more confusing. In just one hour, you'll gain a better understanding of the FMLA, learn to eliminate FMLA confusion and explore real-life issues.
Employers need to ensure that all HR staff and all managers who deal with employee leave requests are well-versed in the finer details of FMLA-related leave. HR professionals, in particular, should understand who is eligible for leave, how much they're eligible for, how to track FMLA absences, and how intermittent FMLA leave is managed.
Administering FMLA leave can be made easier if you have a clear procedure that employees understand and can easily utilize when the need for leave arises. Additionally, HR professionals must understand the various forms and deadlines for remaining compliant under the FMLA, in addition to other federal laws like the Americans with Disabilities Act (ADA), and workers' compensation claims.

Areas Covered in the Session
Know what the FMLA really says
Coordinate your FMLA policy with your other leave policies and avoid overlap
Understand how FMLA can work to your advantage
Employer coverage and individual eligibility regulations
How to determine FMLA eligibility quickly and easily
What qualifies as a serious health condition
Tips and guidance for "gray area" conditions, including multiple concurrent conditions
The "do's and don'ts" of return-to-work certifications
Handling suspected FMLA abuse without running afoul of the law
How to manage intermittent and reduced-schedule leave
Tips for curbing FMLA abuse
And more!
Who Will Benefit
HR Professionals
Managers
Supervisors
Business Owner
Speaker Profile
Steven G. Meilleur, Ph.D., SPHR – is President, CEO – PRAXIS Management Solutions, LLC, a New Mexico-based management consulting firm specializing in human resources, employee relations, leadership, training & organizational development, organizational research and assessment, strategic & operational planning, and non-profit organization management and governance. Dr. Meilleur has more than 40 years of management and executive-level experience in human resources, risk management, and organizational management in the private non-profit public, and private for-profit sectors.

Dr. Meilleur also serves as Senior Vice-President and Risk Services Consultant for Human Resources and Employment with Poms & Associates, a national risk services and insurance brokerage firm. His previous work experience includes public, private, and nonprofit organizations, in executive and management capacities.

He is also on the faculty of the UNM School of Public Administration in the graduate program, teaching in the areas of human resource management, nonprofit organization management, leadership, dispute resolution, organizational change, and human resource development. He has spoken at numerous conferences and workshops across the country, and is a published author in the areas of human resources, marketing, leadership and management development, organizational change and innovation, non-profit organization management, and board development.

Dr. Meilleur received a BA in English Literature and Education from Bucknell University, an Executive MBA from the University of New Mexico's Anderson Graduate School of Management, and his Ph.D. in Leadership and Organizational Learning from UNM. He received his certification as a Senior Professional in Human Resources (SPHR) by the Society for Human Resource Management in 1995.