The use of this seal confirms that this activity has met HR Certification Institutes (HRCI) criteria for recertification credit pre-approval.
This activity has been approved for 2 HR (General) recertification credit hours toward aPHR, PHR, PHRca, SPHR, GPHR, PHRi and SPHRi recertification through HR Certification Institute (HRCI). Please make note of the activity ID number on your recertification application form. For more information about certification or recertification, please visit the HR Certification Institute website at www.hrci.org." ...more
---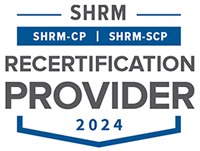 Traininng.com LLC is recognized by SHRM to offer Professional Development Credits (PDCs) for the SHRM-CP® or SHRM-SCP®.
?
1-hour educational program = 1 PDC.
1-hour and 15 minute concurrent conference session = 1.25 PDCs.
3-hour e-learning course = 3 PDCs.
Overview
This training program will analyze these three seemingly different bodies of law that often overlap leading to ambiguity and confusion. What are the eligibility/coverage criteria under the FMLA and the ADA/ADAAA and workers comp? When might an extended leave be a reasonable accommodation? When might it be an undue hardship? Undue hardship can mean different things to different employers.
If you are in healthcare, pharma, banking, and finance, to name a few examples, accommodations of leave requests that may be feasible for many other employers, might, for you, be an undue hardship. If it's not deemed an undue hardship are there steps you can take to mitigate the burden? What are the notice requirements? In this seminar, participants will get answers to these and many other questions.
Why you should Attend
The Family Medical Leave Act (FMLA) requires covered employers to allow eligible employees up to 12 weeks of unpaid job-protected leave and benefits to care for their own or a family member's serious health condition. The Americans with Disabilities Act (ADA) and the Americans with Disabilities Act Amendments Act (ADAAA) require employers to provide reasonable accommodations to qualified employees with disabilities so that they can perform the essential functions of their jobs-and a leave of absence may very well be such a reasonable accommodation.
An FMLA-eligible employee may also be protected under the ADA/ADAAA, and therefore qualify for an extended leave of absence -beyond the FMLA's 12-week maximum. If that's not enough when you have employees who are eligible for time off from work under workers' compensation laws, the potential for overlap, not to mention administrative challenges, and the impact on your company's bottom line seems to increase exponentially.
This seminar will help participants unravel this tangled web of often overlapping employee leave laws. It will help you alleviate concerns about administrative challenges, employee leaves abuse, and negative impact on your bottom line on one end and the risk of non-compliance with FMLA, ADA, and workers' comp laws on the other end.
Areas Covered in the Session
The difference between someone with a "serious health condition" under the FMLA and a "qualified individual with a disability" under the ADA/ADAAA
Use of medical inquiries to determine coverage under the FMLA and the ADA/ADAAA
Notification requirements under FMLA and ADA/ADAAA
Reinstatement requirements under FMLA and ADA/ADAAA
Situations where the FMLA and ADA/ADAAA may overlap
Intermittent leave requests under FMLA and the ADA/ADAAA
Terminating an employee who has exhausted FMLA leave time without running afoul of the ADA/ADAAA
Documentation and meeting guidelines
Case laws and/or emerging issues
Best practices
Issues of particular concern to healthcare/pharma/life sciences professionals and businesses
Who Will Benefit
Executives
Managers and Supervisors
Risk Managers
Benefit Specialists
Supervisors
Business Owners
General Managers
Controllers/ CFOs / Financial Managers
Human Resource Managers / Administration
HIPAA Officer
Privacy Officer
Health Information Manager
Healthcare Counsel/Lawyer
Office Manager
Speaker Profile
Janette S Levey "The Employer's Lawyer" has over 20 years of legal experience, more than 10 of which she has spent in Employment Law. It was during her tenure as sole in-house counsel for a mid-size staffing company headquartered in Central New Jersey, with operations all over the continental US, that she truly developed her passion for Employment Law.

Janette works with employers on most employment law issues, to ensure that employers are in the best position possible to avoid litigation, audits, employee relations problems, and the attendant, often exorbitant costs. Janette has written articles on many different employment law issues for many publications, including EEO Insight, Staffing Industry Review, @Law, and Chief Legal Officer.

Janette has served on the Workplace Violence Prevention Institute, a multidisciplinary task force dedicated to providing proactive, holistic solutions to employers serious about promoting workplace safety and preventing workplace violence. Janette currently serves as an Advisory Board Member for Child and Family Resources of Morris County, New Jersey.

Janette has also spoken and trained on topics, such as Criminal Background Checks in the Hiring Process, Joint Employment, Severance Arrangements, Addressing and Preventing Employee Leave Abuse, Pre-Employment Screening among many, many others.