The use of this seal confirms that this activity has met HR Certification Institutes (HRCI) criteria for recertification credit pre-approval.
This activity has been approved for 1 HR (General) recertification credit hours toward aPHR, PHR, PHRca, SPHR, GPHR, PHRi and SPHRi recertification through HR Certification Institute (HRCI). Please make note of the activity ID number on your recertification application form. For more information about certification or recertification, please visit the HR Certification Institute website at www.hrci.org." ...more
---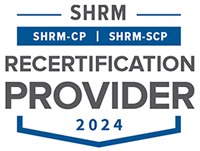 Traininng.com LLC is recognized by SHRM to offer Professional Development Credits (PDCs) for the SHRM-CP® or SHRM-SCP®.
?
1-hour educational program = 1 PDC.
1-hour and 15 minute concurrent conference session = 1.25 PDCs.
3-hour e-learning course = 3 PDCs.
Overview
Employers have always avoided the termination either because it is not easy to terminate someone or because it can be difficult to defend any allegations of wrongful termination. Cases of wrongful termination have emerged and increased since the late 2000 year. Research has identified the following factors in this increase:
Employees more aware and knowledgeable of the workplace rights
Employees taking chances of making "a killing" by charging discrimination
Equal Employment Opportunity Commission (EEOC) establishing increased awareness on how employees can make these charges
New whistleblower protections for employees who turn in Employers
More resources on websites by Department of Labor (DOL) providing employees with ways to confirm if Employers are violating current regulations
Because of these and other factors, Employers are now more than ever, at risk of litigation against termination decisions. The EEOC has established definitions and guidelines of what constitutes discrimination and what employees are part of "protected classes" and discrimination claims. Now that there have been additional protections under EEOC, Employers should consider these regulations and prepare for those potential Risks.

Why you should Attend
Employers need to be aware of the cost of these actions via litigation, fines & penalties and even criminal sanctions. Employers need to ask if they have the protections they need when they make decisions on termination, reduction in force, demotion, suspensions and disciplinary actions.
Areas Covered in the Session
Termination regulations in different states
Retaliation Regulations and the impact in terminations
Identification of Regulatory Agencies and the enforcement focus on Trending Workplace Regulations for 2017-2018
Critical Reasons Why Managers Should be Trained on the Termination Best Practices to Ensure Safety from Potential Violence
How Weapons Can Impact Termination Decisions
How Managers Can be Vicariously liable for actions or non-actions in the workplace and be fined instead of the Employer in some Termination Decisions
Which Regulations are More Than Likely to Target Employers on Termination Decisions
Learn how employees should be terminated with dignity respect and within regulations
Learn how to mitigate wrongful termination allegations before they happen
Create a termination checklist that will reduce your risk when making a decision to terminate
Gain knowledge of the EEOC regulations and guidelines to prevent allegations of discrimination or wrongful termination
Create a policy that will assist managers in terminating employees without fear of retribution from the regulatory agencies and employees
Use training of your managers to reduce your risk since you can be held liable for Managers/Supervisors with bad management and poor judgment in handling employees
Teach Managers how to document performance issues in preparation for
Develop a termination process that will ensure consistency, fairness, objectivity and reduce risks
Learn what factors can be an obstacle in ensuring a worry-free termination process
Learn how to handle volatile terminations including employees who own weapons, have a history of aggressive behavior, domestic violence, sexual assault or stalking, harassment, mental illness and other behavior

Who Will Benefit
HR Personnel
Managers
Supervisors
Team Leads
Federal Contractors
Department Heads
Directors
VPs
Speaker Profile
Margie Faulk, a senior level human resources and compliance professional with over 14 years of HR management and compliance experience. A current Compliance Officer/Advisor for HR Compliance Solutions, LLC. Margie has worked as an HR and Compliance advisor for major corporations and small businesses in the small, large, private, public and Non-profit sectors.

This includes Federal Contracting in the defense, military, anti-Terrorism and Apache Helicopter Training Simulations with Federal Acquisition Regulations (FAR), Federal Sentencing Guidelines (FSG) and Office of Federal Contract Compliance Program (OFCCP). Margie is bilingual (Spanish) fluent and Bi-cultural.

Margie's focus has expanded to Global Workplace Compliance in International, multi-state, multi-National, state and local workplace compliance which includes workplace compliance in other countries like the UK, Canada, France, Brazil, China, Africa, Mexico and India, just to name a few. Margie has created and presented seminars/webinars for many compliance institutes. These national training providers, offer compliance training to HR professionals, business owners and companies interested in having their company compliant with workplace and industry regulations. Margie holds professional human resources certification (PHR) from the HR Certification Institution (HRCI) and SHRM-CP certification from Society for Human Resources Management. Margie is a member of the Society of Corporate Compliance & Ethics (SCCE).