The use of this seal confirms that this activity has met HR Certification Institutes (HRCI) criteria for recertification credit pre-approval.
This activity has been approved for 1.5 HR (General) recertification credit hours toward aPHR, PHR, PHRca, SPHR, GPHR, PHRi and SPHRi recertification through HR Certification Institute (HRCI). Please make note of the activity ID number on your recertification application form. For more information about certification or recertification, please visit the HR Certification Institute website at www.hrci.org." ...more
---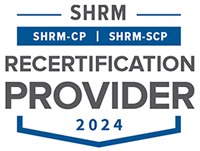 Traininng.com LLC is recognized by SHRM to offer Professional Development Credits (PDCs) for the SHRM-CP® or SHRM-SCP®.
?
1-hour educational program = 1 PDC.
1-hour and 15 minute concurrent conference session = 1.25 PDCs.
3-hour e-learning course = 3 PDCs.
Overview
Many Employers take the risk or are unaware the I9 documents penalties and fines. Moreover, Employers are under the impression that I9 document violations are low risk because "who is going to tell?".
Well I am here to tell Employers that anyone can make a claim or complaint and it doesn't even have to be true. Additionally, now the regulatory agencies are communicating more than ever before. The Department of Labor (DOL) communicates with the Internal Revenue Services (IRS), the DHS communicates with Child Support Services and on and on, it isn't hard to imagine news getting out to target Employers however, research has proven that most complaints come from disgruntled employees and others come from audits of target industries.

Why you should Attend
In October 2017, the DHS and Immigration Control Enforcement (ICE), the enforcement arm of DHS, hired 3 floors of new I-9 Document Auditors in their Tampa Field Office. In 2018, ICE developed their enforcement strategy including  auditing organizations who historically hire undocumented individuals (agriculture, retail, landscaping and construction, just to name a few). As recent as June 2018, Ice has increased these efforts and actually post their raids on their website.
This increase is to accommodate a huge push to conduct I-9 document audits in 2018 -2012 to increase their fines and penalties since they know most Employers have errors! Moreover, an I9 document audit is the most effective way for ICE to walk into a company's site to check not only I9 documents but also to audit if there are illegal immigrants working in the company. ICE is counting on Employer errors to increase their fiscal budget while they check for undocumented workers!

Areas Covered in the Session
Learn what types of errors have the highest fines
Ensure you have the most current I9 forms that is required
What has changed in the most recent focus with the new political administration?
How is the right way to correct I9 documents and save your company from unnecessary violations?
What is the minimal risk Employers have when establishing an I9 document Correction & Storage Process?
How should I9 documents be effectively corrected?
How long should I9 documents be retained for active and terminated employees?
Why are most Employers unclear about completing the new I9 form?
Why are most HR professionals or those responsible for processing I9 documents still violating the request for documents section?
What can you do if you have remote employees when it comes to I9 forms?

Who Will Benefit
All companies and organizations with 1+ employees in the US

Speaker Profile
Margie Faulk, a senior level human resources and compliance professional with over 14 years of HR management and compliance experience. A current Compliance Officer/Advisor for HR Compliance Solutions, LLC. Margie has worked as an HR and Compliance advisor for major corporations and small businesses in the small, large, private, public and Non-profit sectors.

This includes Federal Contracting in the defense, military, anti-Terrorism and Apache Helicopter Training Simulations with Federal Acquisition Regulations (FAR), Federal Sentencing Guidelines (FSG) and Office of Federal Contract Compliance Program (OFCCP). Margie is bilingual (Spanish) fluent and Bi-cultural.

Margie's focus has expanded to Global Workplace Compliance in International, multi-state, multi-National, state and local workplace compliance which includes workplace compliance in other countries like the UK, Canada, France, Brazil, China, Africa, Mexico and India, just to name a few. Margie has created and presented seminars/webinars for many compliance institutes. These national training providers, offer compliance training to HR professionals, business owners and companies interested in having their company compliant with workplace and industry regulations. Margie holds professional human resources certification (PHR) from the HR Certification Institution (HRCI) and SHRM-CP certification from Society for Human Resources Management. Margie is a member of the Society of Corporate Compliance & Ethics (SCCE).