The use of this seal confirms that this activity has met HR Certification Institutes (HRCI) criteria for recertification credit pre-approval.
This activity has been approved for 1 HR (General) recertification credit hours toward aPHR, PHR, PHRca, SPHR, GPHR, PHRi and SPHRi recertification through HR Certification Institute (HRCI). Please make note of the activity ID number on your recertification application form. For more information about certification or recertification, please visit the HR Certification Institute website at www.hrci.org." ...more
---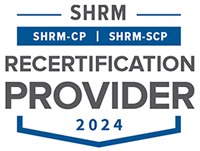 Traininng.com LLC is recognized by SHRM to offer Professional Development Credits (PDCs) for the SHRM-CP® or SHRM-SCP®.
?
1-hour educational program = 1 PDC.
1-hour and 15 minute concurrent conference session = 1.25 PDCs.
3-hour e-learning course = 3 PDCs.
Overview
Imagine leaving a job for purportedly greener, more commodious, pastures, but in the end that new job was not as advertised or represented. Unlike "wrongful dismissal" lawsuits, few are aware of "wrongful hiring".  These lawsuits are founded upon deceit during recruitment that persuades someone to leave one's job to accept another.
With companies posturing to compete for the best talent, there are many prospective wrongful hiring claims, but few employees have sued for them. When they do, the rewards can be vast, with courts awarding employees damages to put them in the position that they would have been if they had never accepted the new job.
To make a case for wrongful hiring, the employee must successfully argue that she never would have accepted the job had she known the truth, one vastly different than what was described.
In one case in Nova Scotia's highest court, a Canadian fishing firm, Canso Seafoods Ltd., assured a job applicant, David Wooldridge, that he could qualify for certification in Canada in his vocation as a fishing master, inducing him to give up his job at a large company in England. Right before Wooldridge accepted the job offer, the certification's requirements shifted and, despite being aware of that shift, Canso failed to advise Wooldridge of the changed state of affairs, negatively affecting his certification.
Wooldridge was awarded $50,000 for lost income and $15,000 for moving expenses, including the loss on the quick sale of his house in Canada and the cost of acquiring equivalent housing in England.
In another case that went all the way to the Supreme Court of Canada, Douglas Queen was told the job he was recruited for at a software firm, Cognos Ltd., would last for two years, followed by an extension. Queen relied on this promise of a budgeted two-year employment and accepted the job.
However, before those two full years, Cognos shuttered the project that Queen was hired for. He sued for wrongful hiring and was awarded $67,000 for loss of income, the cost of reemployment, the loss from the purchase and sale of his home and damages for stress.
It is important for both employers and employees to know that if a promise appears reasonable, albeit optimistic, at the time that it was made, the employer will not be liable for wrongful hiring. Job applicants should be aware that courts are careful to distinguish wrongful hiring from slight exaggeration.
In another case, at the Nova Scotia Court of Appeal, Kathryn Bureau had been recruited to join the accounting firm KPMG and accepted the job in part on the firm's representation that she could be made partner. When Bureau was dismissed about one year later, she sued for wrongful dismissal and wrongful hiring, based on the alleged misrepresentation as to the likelihood she would be made partner.
In this instance, the court sided with KPMG on the issue of wrongful hiring, finding that partnership was a distinct possibility, but contingent upon performance. It ruled that Bureau was mistaken if she honestly believed that partnership would come, as a matter of course, simply after working at the firm for a period of time.
It is important for employers to be cautious in representations during the recruitment process (as should employees). If they over-promise, they could face a wrongful hiring lawsuit, which can be far more expensive than any claim of wrongful dismissal, limited only to a certain number of months of severance. The damages, at the extreme, could be payment until they would otherwise retire plus easier access to mental distress and special damages.
Employers cannot misrepresent something so material that it induces an applicant from leaving secure work to accept their offer.

Why you should Attend
The job market has changed dramatically over the last few years, particularly since the onset of the Pandemic. As employees realized there are more job opportunities available and often with better compensation or better working hours, they are faster to leave their current employment. For many years employers held the advantage in the employment relations ship, but the tide has turned and employees realize how needed they are by the employers and consequently, they are not as loyal as they were in the past.
Employers and employees alike, will benefit from this webinar. Employers will learn the importance of not overpromising in an attempt to procure an employee from another firm and employees will be more aware of their entitlements when the employer fails to live up to those promises.

Areas Covered in the Session
Wrongful hiring overview
Court cases with claims for wrongful hiring
Words of caution to employers inducing employees to leave other jobs
Suggestions for employees when considering switching jobs
Who Will Benefit
Human Resources Managers
Business Owners
CFO's
CEO's
Office Managers
Attorneys
Accounting Professionals
Consultants
Speaker Profile
Nadim Mansour is an employment and labour lawyer with Levitt Sheikh LLP. Nadim represents clients in all aspects of employment law, from human rights issues to wrongful dismissal litigation. With a strong commitment to client service, Nadim works closely with his clients to understand their unique situations and goals. He puts his clients first and works in a strategic and pragmatic manner to find the best possible outcomes in their matters.