The use of this seal confirms that this activity has met HR Certification Institutes (HRCI) criteria for recertification credit pre-approval.
This activity has been approved for 1.5 HR (General) recertification credit hours toward aPHR, PHR, PHRca, SPHR, GPHR, PHRi and SPHRi recertification through HR Certification Institute (HRCI). Please make note of the activity ID number on your recertification application form. For more information about certification or recertification, please visit the HR Certification Institute website at www.hrci.org." ...more
---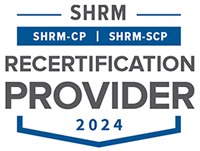 Traininng.com LLC is recognized by SHRM to offer Professional Development Credits (PDCs) for the SHRM-CP® or SHRM-SCP®.
?
1-hour educational program = 1 PDC.
1-hour and 15 minute concurrent conference session = 1.25 PDCs.
3-hour e-learning course = 3 PDCs.
Overview
You will learn how to use financial statements and properly evaluate any firm's financial health, to instantly determine if a firm has a strong or weak balance sheet and evaluate profitability. You will know how to calculate financial ratios, and you will understand what the financial ratios mean and what to notice.
Not classroom theory, we will use a "real-life" case study of a publicly traded stock. This study illustrates how to use financial statements to determine any firm's strength and weaknesses. Work through your own firm's financial statements as we teach you "How to Understand and Analyze Financial Statements."
You'll learn how to use Horizontal and Vertical Analysis to instantly troubleshoot financial problems. You'll then learn how to calculate and interpret the following financial ratios and more:
Liquidity: Current Ratio, Quick Ratio, Cash Ratio
Efficiency: Days Sales Outstand, Days Sales in Inventory, Total Asset Turnover
Leverage: Debt to Equity, Times Interest Earned
Profitability: Return on Equity, Gross and Net Margin, Earnings per Share, P-E Multiple, More.
Why you should Attend
Understand and Use the Balance Sheet and Income Statement
Properly Calculate and Understand Financial Ratios
Learn What to Check for and Why
Use Financials to Gauge the Fiscal Health of Any Company
Use Industry Averages to Benchmark Performance
Use a Financial Metrics KPI Dashboard to Evaluate a Firm's Financial Strengths and Weaknesses
Plan Strategy Based on a Firm's Financial Strengths and Weaknesses
LEARN IT ONCE - LEARN IT RIGHT!
Areas Covered in the Session
Understand Financials
Calculate Financial Ratios
Compare Industry Averages
Compare Competitors
Who Will Benefit
C-Level Executives at Fortune 1000 Firms and Utility/Energy Companies
Vice Presidents at Large Firms
CEOs and Owners at Small Firms
Lawyers
Sales Professionals
Administrators
Bookkeepers
Speaker Profile
Joseph Weil has a Master of Accounting Degree from Florida State University and is an actively licensed Florida CPA. Joe's work experience includes staff accountant with large CPA firm, corporate controller, state agency director of auditing and former municipal CFO. Joe also started and sold his own CPA firm. Joe is the owner and CEO of the National Center for Continuing Education, a nation-wide financial and technology training firm. Joe has led over 500 seminars and over 100 webinars.

Past in-house seminar/webinar clients have included Harley-Davidson, Hewlett-Packard, General Mills, Oracle, Burger King, Deloitte, Florida Power and Light and many similar organizations.