The use of this seal confirms that this activity has met HR Certification Institutes (HRCI) criteria for recertification credit pre-approval.
This activity has been approved for 1 HR (General) recertification credit hours toward aPHR, PHR, PHRca, SPHR, GPHR, PHRi and SPHRi recertification through HR Certification Institute (HRCI). Please make note of the activity ID number on your recertification application form. For more information about certification or recertification, please visit the HR Certification Institute website at www.hrci.org." ...more
---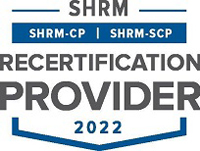 Viewing this webinar, its entirety qualifies for a recertification credit hour that may be counted toward SHRM-CP and SHRM-SCP recertification from SHRM. Credit is awarded based on the actual educational time spent in the program.
?
1-hour educational program = 1 PDC.
1-hour and 15 minute concurrent conference session = 1.25 PDCs.
3-hour e-learning course = 3 PDCs.
Overview
A lot has been written about moving from worker to supervisor, but there is a shortage of information about moving from supervisor to manager. The immediate question before us is this: Is there a difference between managing rank and file employees versus managers. And the answer is YES! Managing mangers is a skill set and it is one that will serve you for the rest of your career for as you move from manger to director to the executive suite, the tips, tricks, tools, and techniques learned in this webinar are resilient enough to be used over and over again!
Why you should Attend
While supervisors are the only employee group that managers workers, what happens when you get a promotion to begin managing managers? Is it a different mindset? You bet it is!
The skills needed to manager managers is very different than managing employees and it is a skillset that will assist you in all promotions for the rest of your career.
If you are worried that you many not have the tools to be promoted from supervisor to manager, then this webinar is for you. It will provide the necessary backgrounds theory and give you solid, practical tools for shifting your mindset to that of managing mangers.

Areas Covered in the Session
Transitioning from Supervisor
What to do NOW
Create a unique leadership style that reflects your personality
Identify solutions to problems across more than one department
Your role as teacher and coach
Creating an interpersonal communication style
Motivational techniques that work
Who Will Benefit
Supervisor
1st Line Supervisors
HR Professionals
Speaker Profile
Biagio Sciacca known to his friends as Bill, was a lifelong resident of Pittston, PA. He is the owner of Intelligent Motivation, Inc. a global consulting and training firm specializing in management and leadership training as well as psychological assessment for hiring and staff development. He is the author of several books relating to goal setting, and his third book, High Octane Leadership, is publishing soon. Now residing in Tamarindo, Costa Rica, he divides his time between his international clients, writing his next book and wandering aimlessly on the beach.