The use of this seal confirms that this activity has met HR Certification Institutes (HRCI) criteria for recertification credit pre-approval.
This activity has been approved for 1 HR (General) recertification credit hours toward aPHR, PHR, PHRca, SPHR, GPHR, PHRi and SPHRi recertification through HR Certification Institute (HRCI). Please make note of the activity ID number on your recertification application form. For more information about certification or recertification, please visit the HR Certification Institute website at www.hrci.org." ...more
---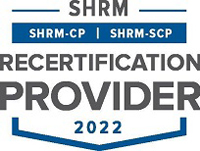 Viewing this webinar, its entirety qualifies for a recertification credit hour that may be counted toward SHRM-CP and SHRM-SCP recertification from SHRM. Credit is awarded based on the actual educational time spent in the program.
?
1-hour educational program = 1 PDC.
1-hour and 15 minute concurrent conference session = 1.25 PDCs.
3-hour e-learning course = 3 PDCs.
Overview
Do your organizational change initiatives succeed in changing behaviors permanently, or do employees fall back to their old behaviors before the new ones have a chance to set in and become the new normal? Do they roll their eyes and see change initiatives as "flavor-of-the-month" efforts, as storms that they just need to weather? These are signs that your change initiatives lack sufficient follow-through to sustain them. 
Change leaders tend to put a great deal of emphasis on the launch event and the subsequent rollout of the change, which is understandable. Both are very important in spinning up receptivity to change and creating momentum. However, resistance to change doesn't just dissipate after a successful launch: it merely goes underground. When change leaders assume that an implemented change is automatically going to be adopted by everyone, when they fail to see beyond that implementation phase, they invite a myriad of problems that can undermine the sustainability of the change. It takes planning and a concerted effort to reinforce and institutionalize the change, so that it is hard coded into the DNA of the organization and don't slide backwards to "same as it ever was."
In this webinar, we'll discuss a variety of sustainment strategies for ensuring that your changes stick and don't join the 75-80% of organizational change initiatives that fail to achieve their goals.
We'll focus on four key drivers of change sustainment: governance, formality, metrics, and incentives. Mastering these will enable you to ensure that your organizational change sticks and lasts long enough to deliver on its intended business outcomes.

Why you should Attend
Most organizational change initiatives fail, so equipping yourself with strategies that actually work will help you avoid many of the pitfalls that derail other HR leaders.
When change leaders execute a successful change initiative, they are held in high regard and are often seen as high potentials for advancement. It also makes it more likely that they will secure the necessary approval, funding, and support the next time they are trying to bring about a change. Success breeds success.
On the other hand, when a change initiative fails, even if the change leader can avoid the blame, it can do irreparable harm to their career growth and make it more challenging for them to gather the necessary support next time. So, it's important to get change right, and ensure that the change sticks.

Areas Covered in the Session
How resistance goes underground after a successful launch
Establish long-term governance
Formalize new way of working, embedding it into documentation, tools, structure, training, etc.
Revisit goals and success metrics
Redefine winning through recognition and incentives

Who Will Benefit
CHRO
HR Directors
HR Managers
OD Directors
Leadership Development Directors
CEO
COO
PMO
Others who are in roles requiring them to lead organizational changes.

Speaker Profile
Dr. Gus Prestera teaches change leadership at American University to HR management and analytics, project management, and healthcare management graduate students.

He has been supporting business leaders and HR leaders in their talent-related change initiatives for over 20 years. Gus has worked with mid- and large-sized businesses across different industries to analyze business needs, define solutions, build business cases, create change strategies, design communication plans, and support the ongoing work of promoting change adoption across these organizations.