The use of this seal confirms that this activity has met HR Certification Institutes (HRCI) criteria for recertification credit pre-approval.
This activity has been approved for 1 HR (General) recertification credit hours toward aPHR, PHR, PHRca, SPHR, GPHR, PHRi and SPHRi recertification through HR Certification Institute (HRCI). Please make note of the activity ID number on your recertification application form. For more information about certification or recertification, please visit the HR Certification Institute website at www.hrci.org." ...more
---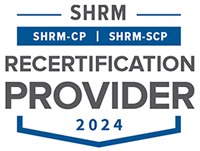 Traininng.com LLC is recognized by SHRM to offer Professional Development Credits (PDCs) for the SHRM-CP® or SHRM-SCP®.
?
1-hour educational program = 1 PDC.
1-hour and 15 minute concurrent conference session = 1.25 PDCs.
3-hour e-learning course = 3 PDCs.
Overview
While the #MeToo movement inspired many men and women to come forward with their stories, sexual harassment is still a very real problem in many organizations.
Unfortunately, in the corporate workplace, 75% of workplace sexual harassment goes unidentified and 39% of employees don't believe their concerns will be addressed. Many of the people doing the harassment are in positions of power, therefore making taking action harder. This leaves the people who have been harassed feeling anxious, isolated, diminished, and not sure about the best next steps to take. Targets may experience both physical (headaches, stomachaches, insomnia, etc) as well as fear, self-blame, self-doubt, depression, and withdrawal. 
However, there are powerful steps employees and leaders can take to moderate and diminish unwanted behavior. 
Why you should Attend
Unfortunately, in the corporate workplace, 75% of workplace sexual harassment goes unidentified and 39% of employees don't believe their concerns will be addressed. This webinar will help you understand your rights, and make careful, best-practice decisions about how to get appropriate help, and perhaps even file a claim.
The US Equal Opportunity and Employment Commission defines sexual harassment in the terms below: 
It is unlawful to harass a person (an applicant or employee) because of that person's sex. Harassment can include "sexual harassment" or unwelcome sexual advances, requests for sexual favors, and other verbal or physical harassment of a sexual nature
Harassment does not have to be of a sexual nature, however, and can include offensive remarks about a person's sex. For example, it is illegal to harass a woman by making offensive comments about women in general
Both target and the harasser can be either a woman or a man, and the victim and harasser can be the same sex. Retaliation for reporting unwanted behavior is also against the law
The harasser can be the victim's supervisor, a supervisor in another area, a co-worker, or someone who is not an employee of the employer, such as a client or customer
Even with these guidelines, sexual harassment may be difficult to discuss, document, and report. 
Areas Covered in the Session
What constitutes sexual harassment and sexual misconduct
How to move from "victim" to "target" and get support 
Understanding and Setting Your Own Boundaries
Best Practice Models for Indicating the Behavior is Unwelcome
How to help targets who are experiencing sexual harassment 
Review the US government laws (EEOC) that protect targets 
How to best address concerns in your organization given their policies 
Resources for support: Legal, emotional, HR management, advocacy
Who Will Benefit
Sales
Customer Service
Managers
Leaders
Office Workers
Field Representatives
HR
Meeting Planners
Hospitality Employees and Managers 
Speaker Profile
Suzanne Blake , PCC, is an award-winning International Coach Federation Professional Certified Coach with 23 years of coaching, training, and business consulting experience. With?warmth, humor, and the?latest in coaching and brain?science techniques, Suzanne?helps individuals and groups attain their communication, empowerment, career, and leadership goals.

Suzanne Blake is the Founder and President of Blake Coaching and Training. She has helped hundreds of seasoned and emerging leaders expand their capacity, make decisions, use focused strategic thinking, and build confidence and self-awareness. Her coaching work has been featured on The Today Show, NPR, The New York Times, The Boston Globe, and numerous other media outlets.

A passionate industry leader, she specializes in coaching executives and managers in leadership development, managing individuals and co-located and virtual teams, communication styles effectiveness, work-life balance, presentation skills, emotional intelligence, and time and performance management.?Suzanne has comprehensive experience designing and facilitating training and coaching programs, facilitating team building, and conducting one-on-one Executive Coaching sessions.

Her clients include Verizon, Deloitte, LLC, Amica Insurance, BCBS, EMC/Dell, Synthes Switzerland, eClinicalWorks, Nimbly Wise Ed/Tech Coaching and Training, Core Axis, and numerous small to medium size businesses, and non-profit organizations.

Suzanne is a masterful communicator with a proactive and resourceful approach to helping drive client-oriented coaching services and learning and development programs. She demonstrates a unique ability to quickly zero in on the root causes of problems and identify creative and sustainable solutions.

Suzanne is a featured author in the popular book, 101 Great Ways to Improve Your Life, co-authored with leading experts Jack Canfield, John Gray, Richard Carlson, and Bob Proctor.