The use of this seal confirms that this activity has met HR Certification Institutes (HRCI) criteria for recertification credit pre-approval.
This activity has been approved for 1 HR (General) recertification credit hours toward aPHR, PHR, PHRca, SPHR, GPHR, PHRi and SPHRi recertification through HR Certification Institute (HRCI). Please make note of the activity ID number on your recertification application form. For more information about certification or recertification, please visit the HR Certification Institute website at www.hrci.org." ...more
---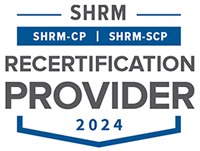 Traininng.com LLC is recognized by SHRM to offer Professional Development Credits (PDCs) for the SHRM-CP® or SHRM-SCP®.
?
1-hour educational program = 1 PDC.
1-hour and 15 minute concurrent conference session = 1.25 PDCs.
3-hour e-learning course = 3 PDCs.
Overview
This webinar will show you how to manage and prevent fear of public speaking by giving you effective techniques. You will learn how to harness your nervous energy and use your voice and body language to feel more confident in front of an audience. You'll find out how to capture and hold your audience's attention - and how to handle Q&A - right through to your memorable close.
Public speaking is inevitable. Throughout life, you'll find yourself speaking at numerous events and occasions, such as office meetings and work events, a best friend's wedding, training sessions, and formal presentations. 
Regardless of the occasion and whether you are addressing 1, 5, or 1,000 people, taking action to rectify your fear of public speaking is necessary to become a more confident public speaker. Imagine stepping in front of an audience, with all eyes looking at you, with confidence, excited to "take the stage" and share your message. 
You will learn:
How to relax and eagerly anticipate your speech by using helpful preparation and organization techniques
Get advice on methods to engage and  hold the audience's attention
Use your body language and voice to complement your delivery
Build rapport and credibility with your audience, so they understand the value of your content and listen and act.
Strategies to target a diverse audience and varying delivery methods.
Give structure to your Q&A to keep questions - and your presentation - on target
A workable and believable plan - specific to your needs - that you can apply immediately to any speaking event and situation.
If you are ready to overcome your fears and improve your public speaking performance, then this webinar is for you!
Why you should Attend
Do you dread leading meetings or speaking to groups? 
Have you ever felt weak in the knees and sick to your stomach when speaking in front of an audience?
The idea of being embarrassed and worried about failure can send many of us into lockup mode when addressing an audience. Doubt and fears are fueled by varying situations affecting confidence. However, the good news is that fear, when addressed, can be BENEFICIAL and managed and prevented. 
This webinar will help you learn ways to embrace fear and use it to improve your confidence and skills. You will get specific tips on what to do to prevent nerves and what to do if those nerves still crop up when speaking - so you can deliver your message and presentation effectively and with confidence.
Areas Covered in the Session
Describe and understand your fear and anxiety about public speaking
Body language and voice control techniques
How to relax through preparation and organization techniques
Strategies to engage your audience
How to stay on track and avoid rambling
How to sound confident even when you are nervous
How to respond to difficult questions with relaxed ease
How to create the environment you want for optimal speaking
How to present confidently in any situation and setting, online and face-to-face
Actionable methods to become a confident speaker you can apply right away
BONUS:
At the conclusion of the webinar, you will receive a Complimentary PUBLIC SPEAKING ASSESSMENT GUIDE (available on request):
Use this complimentary self-assessment guide to help you: 
Recognize your challenges in public speaking to reduce overwhelm
Get clarity about what it takes to be a great public speaker 
Learn techniques to get your audience's interest and attention immediately
Know how to improve your public speaking skills to achieve your goals
Who Will Benefit
This course can benefit anyone who would like to feel more confident when giving a speech, either live, in person, via the Internet, or as a recording
Speaker Profile
Lisa Kleiman , Ed. Specialist., M.S. Communication, B.S. Marketing/Management Lisa is author of "You Got This: Everything You Need to Master Authentic Public Speaking" (2019) River Grove Books, and is principal and Coach at Speaktopia, and is a University Lecturer of undergraduate and graduate business and managerial communication courses.

Lisa has worked with executives, business leaders, employees, and university students to improve their communication skills, helping them experience the joy and power of communicating with clarity and confidence.