The use of this seal confirms that this activity has met HR Certification Institutes (HRCI) criteria for recertification credit pre-approval.
This activity has been approved for 1 HR (General) recertification credit hours toward aPHR, PHR, PHRca, SPHR, GPHR, PHRi and SPHRi recertification through HR Certification Institute (HRCI). Please make note of the activity ID number on your recertification application form. For more information about certification or recertification, please visit the HR Certification Institute website at www.hrci.org." ...more
---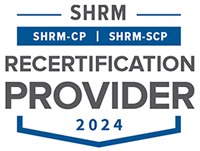 Traininng.com LLC is recognized by SHRM to offer Professional Development Credits (PDCs) for the SHRM-CP® or SHRM-SCP®.
?
1-hour educational program = 1 PDC.
1-hour and 15 minute concurrent conference session = 1.25 PDCs.
3-hour e-learning course = 3 PDCs.
Overview
Transitioning from colleague to leader is a common rite of passage, but it often presents new managers with a steep learning curve and an unfamiliar set of challenges that lead to imposter syndrome. The new leader asks: Does my team trust me and my ability to lead them? Do they respect me?  Will they listen to me or just ignore me? Will they think I'm full of myself if I ask them to take me seriously as their leader?  Can we still be friends?

New leaders are often told to fake it until they make it. This is easier said than done, especially when the team you're managing consists of people who were formerly your colleagues. They know you. Some were rivals, some were friends, and all of them will struggle to see you as their leader. So what are some best practices for new managers as they transition from colleague to leader?

In this session, we'll discuss several techniques that ask you to look inward to face your own insecurities and capability gaps, engage in a dialog with your team at both a group and individual level and shift some of your behaviors in a way that quickly earns you credibility with your team.
Why you should Attend
First-line management roles are commonly filled through internal promotions - and this is a great thing - but when we do not provide new managers with the right support, they struggle to make the transition, and some fail altogether. Even when they eventually work their way through the transition, their lessons learned can leave behind a great deal of collateral damage to the team they were managing. When HR professionals provide the right support and guidance, new managers can assimilate into the role more quickly, become productive sooner, reach higher levels of team performance, and avoid various pitfalls. 
Areas Covered in the Session
Leader onboarding
Establish your leadership style
Create your 90-Day Action Plan
Reset expectations
Conduct an assimilation meeting
More listening: Less telling 
Get quick wins for your team
Invest in your leadership development
Who Will Benefit
HR professionals who support new leader assimilation
Speaker Profile
Michael Cox is the founder and President of Nittany Business Coaching and Training. He has provided hundreds of highly acclaimed seminars and webinars on a variety of topics over the last ten years.

He brings his seminars to life with examples from his 29-year career as a high performing leader and manager in the corporate world where he was noted for his ability to develop high performing leaders and teams that consistently exceeded all measurements while having fun.

Mike brings a highly interactive and collaborative approach to all seminars and webinars. He is highly adept at identifying key needs for his clients and students and tailoring his approach to ensure that the most important needs are addressed. His webinars have been described as "highly interactive and compelling," "engaging and exciting," and "highly impactful."

He is passionate about ensuring that attendees leave with a clear plan that can be implemented immediately to drive results and performance.

Mike has an MBA in Marketing from St. Joseph's University. He has worked with various levels of management and staff to provide training and coaching that makes a difference.