The use of this seal confirms that this activity has met HR Certification Institutes (HRCI) criteria for recertification credit pre-approval.
This activity has been approved for 1 HR (General) recertification credit hours toward aPHR, PHR, PHRca, SPHR, GPHR, PHRi and SPHRi recertification through HR Certification Institute (HRCI). Please make note of the activity ID number on your recertification application form. For more information about certification or recertification, please visit the HR Certification Institute website at www.hrci.org." ...more
---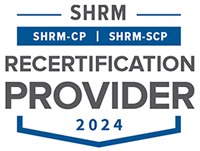 Traininng.com LLC is recognized by SHRM to offer Professional Development Credits (PDCs) for the SHRM-CP® or SHRM-SCP®.
?
1-hour educational program = 1 PDC.
1-hour and 15 minute concurrent conference session = 1.25 PDCs.
3-hour e-learning course = 3 PDCs.
Overview
During this Training, we will address how to nurture and mentor your new hires. Too often the initial orientation is not sufficient to acclimate a new hire to their new job, coworkers, and company culture.  
You will also learn the value of a designated mentor and how to formalize your mentorship program. We will explain how both the mentor and new hire benefit from the mentorship experience.
Next, you will also learn how today's ever-changing workforce values personal and professional development. Millennials and Gen Z, who make up the majority in the workplace, personal and professional development is one of their top three priorities when accepting a new opportunity. You will also learn the impact training has on engagement and retention. In addition, the skill sets learned during training should also be with career advancement. For example: If someone in middle management has executive aspirations with no P & L knowledge, that would be an area that should be offered through your training programs.
Next, we will address your interview and hiring process, which either enhances or sabotages engagement and retention. You will learn the importance of upgrading your job requisitions to include performance objectives that will be shared with everyone in the interview process as well as the potential hire. In addition, you will learn other changes in your process that will improve the engagement of candidates hired. We will also touch on the importance of recognizing transferrable skills which opens you to a larger talent pool.
We will address the impact your company culture has on engagement and retention. You will learn why the "health" and "culture" of a business are what separates extremely successful companies from average or mediocre ones. You will learn how to determine your real company culture, not the one listed on your website. 
In addition, you will become aware of the different company cultures that exist in various departments. For example, the company culture in an accounting department may be significantly different than the culture in the sales department.
When your core values and culture do not align with the candidates hired, that will also result in a lack of engagement and retention.  Learn how to present your company culture and core values and determine if they are aligned with your employees.  
Another area addressed in this Webinar is internal referrals. If your employees are engaged, supported, happy, and love their job and your company, 40% of your new hires should be referrals. If this is not your reality, the webinar will explain how the lack of referrals is tied to a lack of engagement.  
Next, you will learn the importance of stay interviews, who should conduct them, and what questions should be asked because they enhance retention.
Lastly, we will address how to recognize employee milestones and what type of recognition helps reduce turnover. The bottom line, when you implement what you learn during this webinar you will stop losing your top talent!
Why you should Attend
Two of the greatest challenges facing companies today are the engagement and retention of their employees, if that is affecting you or your company, this training will provide you with techniques to improve the engagement and retention of top talent.  
If you are losing valued employees faster than you can replace them, learn how to reduce your turnover. Disengagement and turnover are also very costly and should not be accepted as the price for doing business in a competitive job market. It makes no sense to keep filling the funnel of talent only to consistently lose valued talent from the bottom of the funnel.
What is your current strategy to nurture new hires after their initial orientation? If you do not have a nurturing process in place, learn steps you should take immediately to improve engagement and retention. Are you aware of the new business model being utilized by many of the most successful companies?  With over 50% of the workforce not working the traditional 40-hour work week, should you consider flexible staffing?
What about your current recruiting, interviewing, and hiring process? If you have engagement and retention issues, they often start with these processes.  When is the last time you upgraded your job requisitions and do the upgraded requisitions include performance objectives? This reveals how employees will be evaluated after 6-12 months and should be shared with a prospective hire.
How would you describe your company culture?  More importantly, how do your employees describe your company culture, when you're not there?  Does your company culture match what is written about it on your website?  Are there different company cultures in various departments of your company?  If yes, how are they described during your interview process?
If you are not conducting Stay Interviews, this information alone is worth your attendance at this training. Stay Interviews greatly enhance engagement and retention and are more valuable than performance reviews. You will be provided with the best questions to ask during a Stay Interview.
Do you have rewards for employees who attain milestones with your company? If not, you will learn about the most effective ways to recognize employees. Lastly, you will learn the value of discussing career paths for your key employees. If your employees don't understand their career path, they will find a company that can show them how they can grow, and you will lose your employee.
Areas Covered in the Session
Importance of nurturing after the initial orientation
Value of formalizing your mentorship program
The importance of personal and professional development
Impact of Training on career advancement
Does your interview/hiring process enhance or sabotage retention?
Role your company culture and core values play in engagement/retention
Internal referrals
Stay interviews
How to recognize milestones
Who Will Benefit
Entrepreneurs
Hiring Managers
Human Resource Professionals
Talent Acquisition Professionals
Individuals in the Staffing and Recruiting Profession
Speaker Profile
Barbara J. Bruno is recognized internationally as one of the top experts in the Recruiting and Talent Acquisition Professions. She is a speaker, author, and entrepreneur who is known for her comprehensive training which shares ideas that are easy to implement. Her mission is to help others achieve greater success.

Kogan Page Publishing of London released her award-winning book "High-Tech High-Touch Recruiting" in 2020. Barb has developed a private labeled Career Portal to help 100% of the candidates that companies attract to improve the candidate experience.

Barb was selected by LinkedIn Learning to create 17 Recruiting Courses, which have had over 2 million participants worldwide, many of which have been translated into several languages for worldwide distribution. In September 2022, Barb released a new Learning Management System (Top Producer Tutor) with video, audio, and written tutors. Her Tutor clients have experienced improved sourcing, recruiting, engagement, and retention of top talent. She prides herself on teaching techniques that help fill open requisitions faster, and with the best talent.

Barb was the Chairman of the Board for NAPS, (National Association of Personnel Consultants) President for the Indiana, and Illinois State Employment Associations, has received numerous awards including the Lincoln, Ancil T. Brown, Woman of Achievement, and Harold B. Nelson Awards. She was also inducted into the NAPS Hall of Fame. She currently serves on the Advisory Board of the Women Business Collaborative, Chairs the Staffing Workstream and donates her time and resources to many philanthropic endeavors.