The use of this seal confirms that this activity has met HR Certification Institutes (HRCI) criteria for recertification credit pre-approval.
This activity has been approved for 1 HR (General) recertification credit hours toward aPHR, PHR, PHRca, SPHR, GPHR, PHRi and SPHRi recertification through HR Certification Institute (HRCI). Please make note of the activity ID number on your recertification application form. For more information about certification or recertification, please visit the HR Certification Institute website at www.hrci.org." ...more
---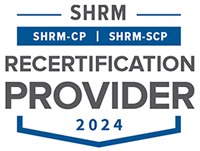 Traininng.com LLC is recognized by SHRM to offer Professional Development Credits (PDCs) for the SHRM-CP® or SHRM-SCP®.
?
1-hour educational program = 1 PDC.
1-hour and 15 minute concurrent conference session = 1.25 PDCs.
3-hour e-learning course = 3 PDCs.
Overview
This topic explores the role of Human Resources in managing the organizations initiative for the return of the workforce to the office - in some fashion. The use of pulse surveys, and the attention to the employee population's mindset regarding their feelings of safety and anxiety about returning to work will be explored. The importance of underlying Workforce Analytics will be discussed in terms of Metrics and appropriate Dashboards of People Analytics. What they are? How they differ from Metrics? And how Workforce Analytics is critical in addressing the issues raised by the Pandemic - for any company.  
The session will define the critical metrics needed by a company to comply with US legislation and to track and maintain data about their workforce in terms of safety, location, agility, job sharing etc. Additionally, it will review offerings from leading HRMS providers who provide the underlying data and offer algorithms to identify workforce status - both for current and for the near future as organizations emerge from lockdowns and ask employees to return to work. The session will clarify the need for a strategic approach by HR and how HR must be the main source of communications and empathetic leadership in these new normal times. The understanding of certain Bias regarding managers and how they perceive those employees who physically return to the office vs. those that remain in either a hybrid or fully Work From Home schedule will also be explored.
Why you should Attend
The covid pandemic has made the role of human resources management ever more critical. HR must use underlying technology to address all issues related to the wellbeing and mindset of the employee population as the pandemic EBBS, and employers are asking their workforce to return to the office in some form. HR Technology greatly facilitates the gathering of information to inform senior management on how to proceed. If you are at any level of decision making this webinar is critical and will provide you guidance in making the most appropriate decisions about your workforces return to the office.
Areas Covered in the Session
Return to work considerations for the workforce
Management bias - wfh employees vs. those in the office
What is people analytics?
How does people analytics differ from "metrics"
How do people analytics add value to an organization?
How do people analytics create and align with a strategy?
The analytics maturity model - hindsight - insight - foresight
What senior management wants and asks about?
Specific lists of metrics within all functions of hr management
The specific impacts of covid on the workforce and the analytics needed to measure that impact
Analytics tied to specific phases of the pandemic from peak to return to work
Dashboards related to analytics and metrics
The importance of "storytelling" and visualization
Understanding "leading" and "lagging indicators"
Skills needed to become a specialist in people analytics
Who Will Benefit
All Managers
All Hr Levels
Speaker Profile
Marc S. Miller as a thought leader, consultant, speaker and author, is a nationally respected authority on Human Resource Information Systems with over 35 years experience with all aspects of technology solutions for Human Resources. His nationwide consulting firm, a sole proprietorship, together with his industry visibility, has made Marc S. Miller one of the HR Technology industry's most recognized voices. He uses his thought leadership, significant industry experience and contacts to provide insight into the important trends surrounding HR Technology. In great demand, Marc has been a featured speaker and presenter at numerous HR and HCM technology meetings both industry focused and at many HRMS providers User Conferences. He teaches as an Adjunct Professor, HRM and HR Technology for NYU-Tandon, Manhattan College and LIU. His blogs and webinars are always well viewed and attended. His 2012 book, "HeroicHR", now in its Second Edition, remains in high demand. His latest book THE DEATH OF HR: WHO KILLED H. (Harriet) R. (Rose) Job? – A Cautionary Tale and Detective Story – also in its Second Edition is available through his website, publisher (PYP Press) and Amazon.