The use of this seal confirms that this activity has met HR Certification Institutes (HRCI) criteria for recertification credit pre-approval.
This activity has been approved for 1 HR (General) recertification credit hours toward aPHR, PHR, PHRca, SPHR, GPHR, PHRi and SPHRi recertification through HR Certification Institute (HRCI). Please make note of the activity ID number on your recertification application form. For more information about certification or recertification, please visit the HR Certification Institute website at www.hrci.org." ...more
---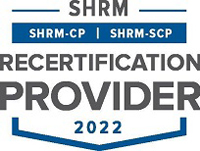 Viewing this webinar, its entirety qualifies for a recertification credit hour that may be counted toward SHRM-CP and SHRM-SCP recertification from SHRM. Credit is awarded based on the actual educational time spent in the program.
?
1-hour educational program = 1 PDC.
1-hour and 15 minute concurrent conference session = 1.25 PDCs.
3-hour e-learning course = 3 PDCs.
Overview
Leadership style is an important aspect of leadership performance. Knowing how you lead is critical to using your greatest strengths in leading a diverse workforce. Avoiding behaviors that negatively impact those whose styles are different from yours will help in relationship-building and productivity.
In this session, participants will learn the various styles that are common to any members of a team. They will be able to identify each style and self-select the style that most resembles the way they see themselves. 
Upon learning the strengths and challenges of these styles, they will come to know how they impact their teams both positively and negatively in how they lead. 
Having this knowledge helps to minimize conflict and reduce blind spots.  Participants will walk away with greater insight into their behavior and what changes they may need to make to bring the best out of their people.
Why you should Attend
Anyone who leads diverse personalities on their team should attend this training.  Most leaders aren't fully aware of what their style is and how it impacts those they lead.  They haven't clearly defined for others how they operate nor for themselves.  As a result, they take actions that work for and against them in building relationships, affecting morale, and impacting performance.  Their style attributes may meld into styles similar to theirs, but they may find themselves on opposite ends of the spectrum with others.  This can cause conflict and make leading different styles more difficult.
Areas Covered in the Session
Identifying leadership styles
Defining the strengths and challenges of each style
Learning how each style impacts the other
Who Will Benefit
Leaders on All Levels
Emerging Leaders
Speaker Profile
Betty Parker is a business owner, professional speaker, author, and trainer. She is a communications expert with more than 30 years' experience presenting to audiences including work in radio after earning a degree in broadcast journalism from Louisiana State University (LSU). Betty began her career as sales professional and trainer in 1998 in the biotech industry. She started Sharper Development Solutions, Inc., a training and development company, in 2006.

Betty has educated thousands of leaders and staff across the country in a variety of performance areas. As a leadership consultant, she specializes in the following topics: communications, teamwork, diversity and inclusion, conflict management, coaching and mentoring, and strategic planning. She is an often sought out speaker for conferences and events. She is at work on her next book, Crushing Goliath: Winning Practices in Slaying BIG People Problems. She is a Certified Professional in Learning and Performance (CPLP) through the Association for Talent Development, a Certified Professional Coach, and an Authorized Partner with Wiley Publishing, the makers of Everything DiSC products. She is also a wife, mom and avid football fan.