The use of this seal confirms that this activity has met HR Certification Institutes (HRCI) criteria for recertification credit pre-approval.
This activity has been approved for 1 HR (General) recertification credit hours toward aPHR, PHR, PHRca, SPHR, GPHR, PHRi and SPHRi recertification through HR Certification Institute (HRCI). Please make note of the activity ID number on your recertification application form. For more information about certification or recertification, please visit the HR Certification Institute website at www.hrci.org." ...more
---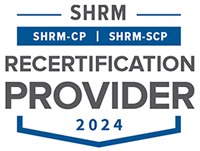 Traininng.com LLC is recognized by SHRM to offer Professional Development Credits (PDCs) for the SHRM-CP® or SHRM-SCP®.
?
1-hour educational program = 1 PDC.
1-hour and 15 minute concurrent conference session = 1.25 PDCs.
3-hour e-learning course = 3 PDCs.
Overview
Employee development had to change in 2007 when the iPhone changed everything, and now as we change everything all over again due to the pandemic, culture is at the heart of it all. On top of it, a whole new generation is challenging nearly every tradition of the past. Join this session to discuss how executives and leaders around the world are transforming their core frameworks in their learning and development cultures to deliver uniquely engaging experiences from onboarding and training to engagement and meetings.

Content is not king (and it never really was). We don't teach content; we teach people, and people have different interests compared to the pre-Internet era, different lifestyles compared to the smartphone era, and different expectations at work compared to the pre-pandemic era. It's time to adopt a model that focuses on the context and ever-changing needs of your people.

Workplace Application: VPs, Directors, and Managers will reverse-engineer this live experience to create real measurable results in the long-term transformation of their culture while ensuring it supports business growth.

Why you should Attend
In a world transformed by COVID-19, we must rethink how we approach onboarding, training, and engaging our people. Whether it's onsite and in-person or remote and digital, this session introduces a model for VPs, directors, and managers to enhance the training culture to generate lasting results.

With all of the innovations and natural progression in the 21st century, too many organizations are still practicing out-of-date strategies for hiring, developing, and retaining their people. It's killing morale, learning transfer, and retention. Something must be done.

Areas Covered in the Session
Part 1, The Demo: Participants will experience first-hand a high-energy, interactive, engaging, and fun experience that demonstrates how easy it is to look at their onboarding and training culture differently
Part 2, The Culture: Participants will take inventory of their organization and/or departments to set up the critical shift that will make the biggest impact on the culture now and in the long term
Part 3, The Model: Participants will explore a comprehensive model of experience development they can use as a checklist to reinforce the transformation of training programs and employee development

Who Will Benefit
Executives and leaders: VPs, Directors, and Managers
Training or People Development VPs, Directors, and Managers
Human Resource VPs, Directors, and Managers

Speaker Profile
Joe Urbanski is the Chief Operations Officer and Org Culture Strategist with the Total Solutions Group (TSG), working with executive teams of small and mid-sized companies who realize they need to align their culture, strategy, and capability. Through Joe's leadership, TSG has fully embraced an agile culture, practical ambition, and operational efficiency. So many fancy words! It means that TSG is constantly simplifying and enhancing its core infrastructure and systems to embody what it delivers, thereby maximizing the results and impact for clients.
For two decades, Joe has helped organizations revitalize their culture and strategy as a strategic partner to balance their strategic paths within everyday execution. These efforts have led to rapid transformation in how organizations gain clarity, alignment, and accountability to achieve their full potential in their marketplace and with customers. Joe also custom-builds leadership development programs alongside the facilitation of full-day training, strategic retreats, and multi-year consulting work. He balances creating value that stays ahead of what their customers need while driving the growth that the organization wants.
Joe shares his dynamic consulting and electrifying facilitation style through more than 700 onsite and online workshops for 465,000+ participants including executive leaders, corporate trainers, and everyone in between. Joe is honored to be ranked in the top 8% of speakers in the Society for Human Resource Management (SHRM), the Association for Talent Development (ATD), and the Training Conference.
Back at home in South Jersey, Joe is committed to being a Trophy Husband (as nominated by his wife) and the Best Dad In The Galaxy (as designated by his two kids), doing all of the things with them that Mommy doesn't want to see.