The use of this seal confirms that this activity has met HR Certification Institutes (HRCI) criteria for recertification credit pre-approval.
This activity has been approved for 1 HR (General) recertification credit hours toward aPHR, PHR, PHRca, SPHR, GPHR, PHRi and SPHRi recertification through HR Certification Institute (HRCI). Please make note of the activity ID number on your recertification application form. For more information about certification or recertification, please visit the HR Certification Institute website at www.hrci.org." ...more
---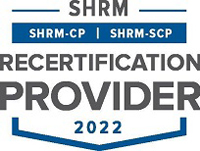 Viewing this webinar, its entirety qualifies for a recertification credit hour that may be counted toward SHRM-CP and SHRM-SCP recertification from SHRM. Credit is awarded based on the actual educational time spent in the program.
?
1-hour educational program = 1 PDC.
1-hour and 15 minute concurrent conference session = 1.25 PDCs.
3-hour e-learning course = 3 PDCs.
Overview
Purpose eergizes anyone and increases their perceived value in themselves and from those with whom they work. To know your individual "why" is to know how much your contributions add to the overall success of the organization's mission and vision. Participants in this session will be able to reflect on four key areas that help them define what they find most rewarding for themselves and how to share it with the world.
This session requires deep introspection through meaningful questioning that as a byproduct yields personal inspiration for the individual participant.  It forces everyone to slow down and ask the all-important "why" of the work they do. Knowing the why brings meaning and substance to the work which brings renewed energy to the worker and reduces the chances of turnover.  Participants in this session will learn more about themselves and will find their confidence increased upon completion. They will also be challenged to act on their discoveries and find greater satisfaction in their jobs.
Why you should Attend
Work becomes mundane and routine for many employees because purpose is not regularly emphasized by leadership or considered by the worker. When purpose is not defined, the satisfaction that can come from a job well done doesn't fully bloom.  Morale ebbs and flows, and the work becomes harder to appreciate when it doesn"t seem to serve any purpose. 
Jobs can lose their deeper meaning when approached superficially and viewed only as a means to survival.  Employees don't feel obligated to put forth their best when they don't have a "why" associated with their work, and it is not unusual for them to start looking elsewhere to re-energize what they feel they are missing.
Areas Covered in the Session
Define purpose in work
Use a proven method through thought-provoking questions to determine purpose at work and beyond 
Compose personal mission and vision statements that add new meaning to individual work contributions

Who Will Benefit
Speaker Profile
Betty Parker is a business owner, professional speaker, author, and trainer. She is a communications expert with more than 30 years' experience presenting to audiences including work in radio after earning a degree in broadcast journalism from Louisiana State University (LSU). Betty began her career as sales professional and trainer in 1998 in the biotech industry. She started Sharper Development Solutions, Inc., a training and development company, in 2006.

Betty has educated thousands of leaders and staff across the country in a variety of performance areas. As a leadership consultant, she specializes in the following topics: communications, teamwork, diversity and inclusion, conflict management, coaching and mentoring, and strategic planning. She is an often sought out speaker for conferences and events. She is at work on her next book, Crushing Goliath: Winning Practices in Slaying BIG People Problems. She is a Certified Professional in Learning and Performance (CPLP) through the Association for Talent Development, a Certified Professional Coach, and an Authorized Partner with Wiley Publishing, the makers of Everything DiSC products. She is also a wife, mom and avid football fan.