The use of this seal confirms that this activity has met HR Certification Institutes (HRCI) criteria for recertification credit pre-approval.
This activity has been approved for 1 HR (General) recertification credit hours toward aPHR, PHR, PHRca, SPHR, GPHR, PHRi and SPHRi recertification through HR Certification Institute (HRCI). Please make note of the activity ID number on your recertification application form. For more information about certification or recertification, please visit the HR Certification Institute website at www.hrci.org." ...more
---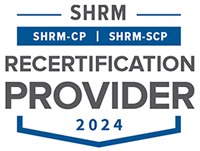 Traininng.com LLC is recognized by SHRM to offer Professional Development Credits (PDCs) for the SHRM-CP® or SHRM-SCP®.
?
1-hour educational program = 1 PDC.
1-hour and 15 minute concurrent conference session = 1.25 PDCs.
3-hour e-learning course = 3 PDCs.
Overview
This is a great presentation for the beginner in business and also for accounting and finance professionals to learn how to analyze the financial statements of a company using ratio analysis.
The presentation discusses the three financial statements of a company, the income statement, balance sheet, and statement of cash flows, and the key liquidity, solvency, profitability, and market ratios and how to use the ratios to evaluate the financial status, stability, value, and growth of a company. The presentation will also discuss how to benchmark ratios for a company and show an example of calculations and analysis for the ratios of a public company, Ford Motor Company. Students of the presentation will obtain valuable resources on how and why to use ratios, the calculation of various ratios, and how to use financial analysis in evaluating a company for investment.
Why you should Attend
This is a great presentation for the beginner in business and also for accounting and finance professionals to learn how to analyze the financial statements of a company using ratio analysis and to determine if the company is suitable for investment. Most investors buy a company's stock because someone else like a financial advisor, a so-called television financial guru, or a friend tells them to. Most of the time the investor will lose money on the investment because they do not have the tools to evaluate the financial status of the company before making the investment.
This presentation will provide the process and tools for the student to begin to understand the various financial aspects of a company, which will lead to better investment decisions. This presentation will also increase the financial IQ of the students in financial analysis.
Areas Covered in the Session
Corporate finance
key liquidity
Solvency
Profitability, and market ratios
How to calculate and use ratio analysis
Benchmarking ratios, and the limitations of using ratio analysis
Who Will Benefit
Students
Finance professions
Accountants, and management personnel
Speaker Profile
Joseph Ori is Executive Managing Director of Paramount Capital Corporation, a real estate and corporate finance and advisory firm (www.paramountcapitalcorp.com) where he is involved in all facets of commercial real estate investment, finance, capital markets, development, capital raising, management, brokerage and advisory services. Mr. Ori has completed more than $6.2 billion in real estate and corporate transactions since 1983.

Prior to forming Paramount, Mr. Ori was Senior Vice President of NRC Realty & Capital Advisors, Chief Investment Officer of The Rhodes Group, LLC, a Las Vegas based land and home developer, President and Managing Partner of Rockdale Property Ventures, the real estate investment group of Rockdale Investment Management, a New York based investment management firm, Practice Director of the Chicago Real Estate Advisory Group of BDO Seidman, LLP, a National Accounting and Tax firm, Founder and President of Paramount Securities Corporation, a real estate investment bank and broker dealer and Senior Vice President of South mark Corporation, a Dallas based Fortune 500 company.

Mr. Ori has a Bachelor of Science degree in Accounting from Southern Illinois University, an MBA in Finance from DePaul University and completed an Executive Program in Financial Management at Harvard Business School. He is a licensed real estate broker in California, a Chartered Financial Analyst (CFA) and a Certified Public Accountant (CPA). Mr. Ori is also an Adjunct Professor of Finance at Santa Clara University in Santa Clara, CA.

Mr. Ori has authored numerous articles on real estate and corporate financing, deal structuring, portfolio diversification and industry trends in leading real estate and finance periodicals and publishes a monthly newsletter, View of the Market, on Insight and Strategy in the Commercial Real Estate Industry and has published two books, "The 50 Commandments of Commercial Real Estate Investment" and "Commercial Real Estate Investment for Pros (and Dummies Too!)", both available on Amazon.com.