The use of this seal confirms that this activity has met HR Certification Institutes (HRCI) criteria for recertification credit pre-approval.
This activity has been approved for 1 HR (General) recertification credit hours toward aPHR, PHR, PHRca, SPHR, GPHR, PHRi and SPHRi recertification through HR Certification Institute (HRCI). Please make note of the activity ID number on your recertification application form. For more information about certification or recertification, please visit the HR Certification Institute website at www.hrci.org." ...more
---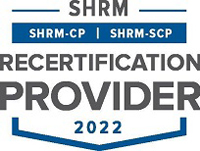 Viewing this webinar, its entirety qualifies for a recertification credit hour that may be counted toward SHRM-CP and SHRM-SCP recertification from SHRM. Credit is awarded based on the actual educational time spent in the program.
?
1-hour educational program = 1 PDC.
1-hour and 15 minute concurrent conference session = 1.25 PDCs.
3-hour e-learning course = 3 PDCs.
Overview
Conflict can be daunting to face when people don't know how to address it. Since it will find its way into people's lives regardless of how careful they are to avoid it, everyone should learn how to manage it well. Not every conflict can be resolved, but because it is inevitable, all conflict can be managed. By managing it, people need to know when to deal with it and when to leave it alone-even if just for a while.
They need to know how to respond to it and how to maintain composure when the stakes are high. They need to know how to negotiate so a mutually beneficial agreement can be reached and how to keep their emotions in check so they can think rationally. This session provides at least three approaches to managing conflict on the job.
Participants will learn how to progress through modes that might otherwise keep them stagnant. They will learn how to create safe spaces to have difficult conversations. Knowing how to set the environment for meaningful conversation creates psychological safety to which people will respond positively. Moreover, establishing rules of engagement is one of the most effective ways to start a difficult conversation. These methods are just as applicable in other aspects of life, but in this session, they are specific to the work environment.
Participants will learn how to manage the most basic differences all the way up to the most difficult and protracted disagreements. These methods will give those who are conflict averse the confidence they need to move boldly on a situation when it arises.
No longer will they feel reluctant because of a lack of knowledge and skill in managing differences with others. Participants will learn to recognize their own behavior when faced with adversarial relationships and how to respond responsibly when tensions are high.
They will recognize destructive responses that are their default when meeting opposition, and how to respond reasonably when the other party reacts destructively. Ultimately, the goal is to identify more productive responses to influence better outcomes.
The information shared in this session is useful for everyone regardless of position or title. But for those in leadership, they will discover ways to help their direct reports manage conflict amongst themselves. An important leadership responsibility is to empower the staff to work out their differences without the leader always expected to play referee and judge. This alleviates the stress the leader may feel about being drawn into the midst of arguments.
What the leader learns in this session can be easily transferred back into the workplace to help the staff. Leaders should attend this session to improve the way they manage conflict so that they can model it for their teams. Having methods and rules in place for dealing with opposing views helps leaders to establish the type of culture they want.
For example, leaders can encourage a culture of openness by gaining buy-in from staff that the best way to manage conflict is to always bring it out front. Whether it's discord between two individuals or the whole team is at odds about how a project is going, they will learn how to air their concerns while still preserving work relationships. In this session, they will find a treasure trove of practical approaches that will help them press forward and resolve disagreements more readily.
Why you should Attend
Conflict is unavoidable even though people who feel uncomfortable facing it try to stay away from it as much as possible.
Running from conflict does not make it go away. In fact, unaddressed, conflict can explode like a stick of dynamite sparked by an unattended flame. A lack of skill in dealing with conflict has often made situations worse, and too often, has strained relationships to the point of breaking. Once relationships are broken, they are hard to repair. Yet, on the job, people still have to work together after they've had full-on confrontations.
The biggest cost comes when companies run the risk of losing great employees because of poor handling of disagreements.  The stress levels that come from being forced to face conflict daily without appropriate resolution drives employees to go seek other work or jobs. Production is compromised and employees become frustrated. Learning to manage conflict is a valuable skill to have because it can preserve relationships, build trust, earn respect, and resolve misunderstandings.
This topic is valuable to all participants but especially to those who are reluctant to address controversy or sensitive issues because they're not sure how. For those who are willing to deal with conflict as it arises, they will learn how to be more effective in their approach. Sometimes people need more than courage. They need skill. Without it, they run the risk of causing more harm than good. Participants will learn at least three ways to successfully handle conflict from the most basic to the most difficult.
Areas Covered in the Session
Common Types of Conflict in the Workplace
Common Behaviors When Faced With Conflict
3 Methods for Handling Conflict

Who Will Benefit
Anyone will benefit from this topic regardless of titles
Leaders can especially benefit because they will learn how to help their direct reports manage conflict among themselves
Speaker Profile
Betty Parker is a business owner, professional speaker, author, and trainer. She is a communications expert with more than 30 years' experience presenting to audiences including work in radio after earning a degree in broadcast journalism from Louisiana State University (LSU). Betty began her career as sales professional and trainer in 1998 in the biotech industry. She started Sharper Development Solutions, Inc., a training and development company, in 2006.

Betty has educated thousands of leaders and staff across the country in a variety of performance areas. As a leadership consultant, she specializes in the following topics: communications, teamwork, diversity and inclusion, conflict management, coaching and mentoring, and strategic planning. She is an often sought out speaker for conferences and events. She is at work on her next book, Crushing Goliath: Winning Practices in Slaying BIG People Problems. She is a Certified Professional in Learning and Performance (CPLP) through the Association for Talent Development, a Certified Professional Coach, and an Authorized Partner with Wiley Publishing, the makers of Everything DiSC products. She is also a wife, mom and avid football fan.