The use of this seal confirms that this activity has met HR Certification Institutes (HRCI) criteria for recertification credit pre-approval.
This activity has been approved for 1 HR (General) recertification credit hours toward aPHR, PHR, PHRca, SPHR, GPHR, PHRi and SPHRi recertification through HR Certification Institute (HRCI). Please make note of the activity ID number on your recertification application form. For more information about certification or recertification, please visit the HR Certification Institute website at www.hrci.org." ...more
---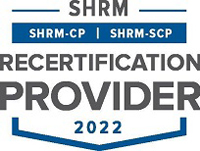 Viewing this webinar, its entirety qualifies for a recertification credit hour that may be counted toward SHRM-CP and SHRM-SCP recertification from SHRM. Credit is awarded based on the actual educational time spent in the program.
?
1-hour educational program = 1 PDC.
1-hour and 15 minute concurrent conference session = 1.25 PDCs.
3-hour e-learning course = 3 PDCs.
Overview
This content will address the value of effectively managing at risk situations by managing one's behavior, assessing the situation and evaluating the circumstances and communicating in the best fashion in determining how best to respond. So whether one might be an unhappy manager preparing to discuss operational issues, a supervisor about to engage with a recidivist employee problem or an employee attending to a customer call; assessment and evaluation of the situation before and while engaged will determine the best course of actions.
However, merely being familiar with the techniques is insufficient, we must have certain qualities, abilities and capabilities in order to understand and apply the techniques. If one is not comfortable engaging in stressful situations these suggestions may or may not work for you. However, essential to engaging conflict is the ability and knowledge to recognize it, capability to manage it and the will to function under stress.
Key to the proper management of any situation is how we communicate. Avoiding poor communication assumptions or being inflexible will certainly have the potential for conflict and confrontation. Communicate with a positive outcome in mind for the other person as well. Being prepared to address the conflict when the situation gets tensed is minimizing risk to avoid and reduce the incident. Positive solution is the one and only objective - you can no longer hide from the indiscriminate decision or action. When things go wrong
Why you should Attend
Knowing how to quickly assess and evaluate situations will determine whether you avoid the risk, reduce the risk or negotiate through the risk. Therefore, it is necessary to understand what one's personal risk mitigation responsibilities are in avoiding becoming an aggressor or victim of workplace violence. Fear and uncertainty are behavior impediments that suppress asking the right questions during training or the absence of relevant topics that are never scheduled or requested.
We all assume we can handle most situations but wouldn't you rather know how to avoid risk, reduce the risk and even de-escalate through the risk by knowing how to manage your behavior in minimizing the situation? Minimizing it from the standpoint of understanding the situation and addressing the problem. Frequently the biggest impediment is the approach to the situation. We violate the ACE Factor (Assumptions, Convenience & Expediency), Failure to assess and evaluate and approach to the solution.
Becoming familiar with the techniques discussed in this webinar will allow one to recognize and avoid conflict and even potentially dangerous situations are functions of managing conflict and de-escalation by learning how to manage one's behavior.
Areas Covered in the Session
Potential Risks
Intervention tactics
Communications techniques
De-escalation approaches
Managing the Situation
Approach and Engagement
Responding to Aggression
Levels of Seriousness
Confronting aggression

Who Will Benefit
Senior Managers
Supervisors
Managers
Customer Service
Inspection Personnel
Utility Repair Services
Call Center

Speaker Profile
Felix P. Nater, CSC a Certified Security Consultant as awarded by the International Association of Professional Security Consultants (IAPSC) believes that workplace violence prevention requires an understanding and thinking that begins with having a robust, agile, proactive (RAP) process that serves as an early warning system in serving to avoid companies from being caught by surprise, unprepared or negligent.

With almost three decades of specialized experience & expertise acquired as a U.S. postal inspector and violence prevention and response security management consultant, Mr. Nater mentors leaders and trains workforces on how best to mitigate the threat of workplace violence through high-level advice; assistance in the development of multiple intervention strategies and implementation and design of policy, plans, and training solutions with manufacturing, processing, production firms, and other businesses.