The use of this seal confirms that this activity has met HR Certification Institutes (HRCI) criteria for recertification credit pre-approval.
This activity has been approved for 1 HR (General) recertification credit hours toward aPHR, PHR, PHRca, SPHR, GPHR, PHRi and SPHRi recertification through HR Certification Institute (HRCI). Please make note of the activity ID number on your recertification application form. For more information about certification or recertification, please visit the HR Certification Institute website at www.hrci.org." ...more
---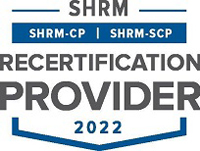 Viewing this webinar, its entirety qualifies for a recertification credit hour that may be counted toward SHRM-CP and SHRM-SCP recertification from SHRM. Credit is awarded based on the actual educational time spent in the program.
?
1-hour educational program = 1 PDC.
1-hour and 15 minute concurrent conference session = 1.25 PDCs.
3-hour e-learning course = 3 PDCs.
Overview
What is corporate culture? How does an organization create and change  corporate culture? Why should anyone care about corporate culture as an issue related to the organization's engagement and performance levels?  This webinar will focus on answering these important questions.
Why you should Attend
Every year the Gallup organization measures the level of engagement globally. It is important because high engagement correlates to high performance, profitability, low accident rates, high productivity, and many other factors that organizational leaders seek. But what are the components of a corporate culture that supports high engagement and high performance? This session focuses on addressing that issue. It also helps to examine ways to reduce the percentage of workers who are actively disengaged and are thus working to sabotage or defeat organizational efforts.
Areas Covered in the Session
Defining Terms and Explaining Why Corporate Culture is Important to the Organization
Aligning Organizational Performance and Strategy with Corporate Culture
Reviewing Ways to Change Corporate Culture and Build a Work Setting that Encourages High Performance and High Engagement
Pointing Toward the Future of Corporate Culture

Who Will Benefit
CEOs
COOs
Senior operating managers
Middle managers
Vice President of Human Resources
HR managers
Training directors
Talent acquisition managers
Organization development managers
Speaker Profile
Dr.William J. Rothwell, Ph.D., SPHR, SHRM-SCP, CPLP Fellow is a Professor of Learning and Performance in the Workforce Education and Development program, Department of Learning and Performance Systems, at The Pennsylvania State University, University Park campus. He is also President of his own consulting firms-Rothwell & Associates, Inc. and Rothwell & Associates, LLC. At Penn State University he heads up a top-ranked graduate program in organization development/change. He has authored, co-authored, edited, or co-edited 300 books, book chapters, and articles-including 111 books. Before arriving at Penn State in 1993, he had nearly 20 years of work experience as a Training Director and HR professional in government and in a multinational business.

As a consultant he has worked with over 50 multinational corporations including Motorola, General Motors, Ford, and many others. He has traveled extensively and has visited China 83 times and Singapore 32 times-among many other international travels.

In 1997 he and his wife founded a small business-a personal care home for the elderly that employed 27 workers. That company was sold in 2017.

He presently has four books in press: Workforce Development: Guidelines for Community College Professionals (Rowman-Littlefield, 2020 in press); Increasing Learning and Development's Impact Through Accreditation (Palgrave, 2020 in press); Human Resource Essentials (Society for Human Resource Management, 2020 in press); and, Winning the Talent Wars Through Neurodiversity (Taylor & Francis, 2020 in press). His most recent published books include Innovation Leadership (Routledge, 2018), Evaluating Organization Development: How to Ensure and Sustain the Successful Transformation (CRC Press, 2017); Marketing Organization Development Consulting: A How-To Guide for OD Consultants (CRC Press, 2017); Assessment and Diagnosis for Organization Development: Powerful Tools and Perspectives for the OD practitioner (CRC Press, 2017); Organization Development in Practice (ODNetwork, 2016); Practicing Organization Development, 4th ed. (John Wiley, 2015); The Competency Toolkit, 2 vols., 2nd ed. (HRD Press, 2015); Organization Development Fundamentals (ATD, 2015); Effective Succession Planning, 5th ed. (Amacom, 2015), Creating Engaged Employees (ATD, 2014); The Leader's Daily Role in Talent Management Creating Engaged Employees: It's Worth the Investment (McGraw-Hill, 2014), Optimizing Talent in the Federal Workforce (Management Concepts, 2014), Becoming An Effective Mentoring Leader: Proven Strategies for Building Excellence in Your Organization (McGraw-Hill, 2013), Talent Management: A Step-by-Step Action-Oriented Approach Based on Best Practice (HRD Press, 2012), the edited three-volume Encyclopedia of Human Resource Management (Wiley, 2012), Lean But Agile: Rethink Workforce Planning and Gain a True Competitive Advantage (Amacom, 2012), Invaluable Knowledge: Securing Your Company's Technical Expertise-Recruiting and Retaining Top Talent, Transferring Technical Knowledge, Engaging High Performers (Amacom, 2011), Working Longer (Amacom, 2008), and Cases in Government Succession Planning: Action-Oriented Strategies for Public-Sector Human Capital Management, Workforce Planning, Succession Planning, and Talent Management (HRD Press, 2008).

Dr. Rothwell received his Ph.D. from the University of Illinois at Urbana-Champaign with a specialization in Human Resource Development, his M.A.B.A. in Business Administration with a specialization in Human Resource Management from Sangamon State University (now called the University of Illinois at Springfield), his M.A. in English from the University of Illinois at Urbana-Champaign, and his B.A. with High Honors and Department Honors from Illinois State University in Normal, IL. He holds certifications in HR (SPHR and SHRM-SCP), Corporate Training (CPLP Fellow), Organization Development (RODC), and Life Insurance (the FLMI designation).

He can be reached by email at WJRothwell@yahoo.com or by phone at 814-863-2581. He is at 310B Keller Building, University Park, PA 16803. See his website at www.rothwellandassociates.com, his videos on YouTube, and his wiki site at https://en.wikipedia.org/wiki/William_J._Rothwell