The use of this seal confirms that this activity has met HR Certification Institutes (HRCI) criteria for recertification credit pre-approval.
This activity has been approved for 1 HR (General) recertification credit hours toward aPHR, PHR, PHRca, SPHR, GPHR, PHRi and SPHRi recertification through HR Certification Institute (HRCI). Please make note of the activity ID number on your recertification application form. For more information about certification or recertification, please visit the HR Certification Institute website at www.hrci.org." ...more
---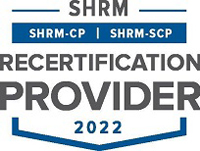 Viewing this webinar, its entirety qualifies for a recertification credit hour that may be counted toward SHRM-CP and SHRM-SCP recertification from SHRM. Credit is awarded based on the actual educational time spent in the program.
?
1-hour educational program = 1 PDC.
1-hour and 15 minute concurrent conference session = 1.25 PDCs.
3-hour e-learning course = 3 PDCs.
Overview
This webinar will address the discussion and creation of a necessary mindset, understanding the OSHA principles and expectations, knowledge of operations and security requirements that need to be considered as the workforce "Returns to Work" during the Covid-19 Infectious Disease Threat and the "New Normal".
It is anticipated that such risk mitigation requirements will create stress on workplace operations and increase security management challenges, necessitating the appropriate mindset and understanding in the disposition and de-escalation of situations. Recognizing incidents of a potential threat of violence should be the primary objective.
When such behavior is identified, at risk employees may be subjected to temporary segregation and ultimate removal from the premises in support of the OSHA 3990 Document. Such challenges will assuredly task Operations and workplace security resources, aggravate tensions within the workforce and agitate existing negative behavior between coworkers.  Management has a duty of care to anticipate requirements, manage risks, clarify expectations, assess and evaluate all situations and implement appropriate policies and procedures.
Safety and security factors must be a consideration that minimally interfere with Operations. Risk mitigations approaches must be coordinated as an operational-security necessity before and during the existence of the workplace security threat. Operations and senior managers much also address and collaborate factors adversely contributing to Post Election hostility and negative behaviors within the workplace and between coworkers.
Why you should Attend
Covid-19 Return to Work will not be without the need for employers to take appropriate risk mitigation protection measures in protecting the workforce and business operations from the unintentional consequences of the CDC Risk Mitigation Strategies adversely affecting safety, security and operations.
Nevertheless, management has a legal and moral duty and responsibility to augment existing safety and security plans or implement new policies, plans and procedures to protect the workforce and the workplace against the potential threat of workplace violence emanating from a risk mitigation protective measure.
While employers are required to implement CDC Covid-19 Risk Mitigation Strategies, the OSHA Duty to Warn Clause regulation charges employers with providing for a safe and secure workplace.
The CDC Risk Mitigations Strategy did not distinguish between small, mid-size or large or employers. In anticipation for the potential of violence this training program helps employers understand the risks and how to roll out workplace security measures that minimize the threat of workplace violence through thoughtful but appropriate prevention policies and plans.
Areas Covered in the Session
Approach, Understanding and Mindset
OSHA and the potential for Workplace Violence
Best approaches and considerations
Supervisor and management duties and responsibilities
Workforce safety and Risk Mitigation
Employee perceptions and de-escalation
Workplace Violence Prevention and the "New Normal"  

Who Will Benefit
HR
Operations
Safety
Security
Labor Relations
Speaker Profile
Felix P. Nater, CSC a Certified Security Consultant as awarded by the International Association of Professional Security Consultants (IAPSC) believes that workplace violence prevention requires an understanding and thinking that begins with having a robust, agile, proactive (RAP) process that serves as an early warning system in serving to avoid companies from being caught by surprise, unprepared or negligent.

With almost three decades of specialized experience & expertise acquired as a U.S. postal inspector and violence prevention and response security management consultant, Mr. Nater mentors leaders and trains workforces on how best to mitigate the threat of workplace violence through high-level advice; assistance in the development of multiple intervention strategies and implementation and design of policy, plans, and training solutions with manufacturing, processing, production firms, and other businesses.