The use of this seal confirms that this activity has met HR Certification Institutes (HRCI) criteria for recertification credit pre-approval.
This activity has been approved for 1.5 HR (General) recertification credit hours toward aPHR, PHR, PHRca, SPHR, GPHR, PHRi and SPHRi recertification through HR Certification Institute (HRCI). Please make note of the activity ID number on your recertification application form. For more information about certification or recertification, please visit the HR Certification Institute website at www.hrci.org." ...more
---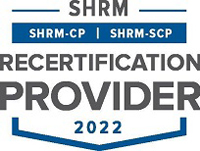 Viewing this webinar, its entirety qualifies for a recertification credit hour that may be counted toward SHRM-CP and SHRM-SCP recertification from SHRM. Credit is awarded based on the actual educational time spent in the program.
?
1-hour educational program = 1 PDC.
1-hour and 15 minute concurrent conference session = 1.25 PDCs.
3-hour e-learning course = 3 PDCs.
Overview
Working From Home: Maximize Efficiency and Effectiveness provides you with detailed information on the physical requirements for setting up a home office to the emotional requirements of engaging with teammates to the practical ways people have figured out to organized personal and work life. There are many temptations to waste time when no one is looking over your shoulder. Developing self-discipline and accountability to your work team can become a struggle for some people. Supervising from afar brings its own challenges, whether the person is across town or on another continent. Family life can be disrupted or impacted. All these things require some tried-and-true strategies to navigate successfully. Learning to focus on results rather than activity may be new for some.
This approach will not only improve your ability to determine your progress or the progress of a team member, it will translate back into your work if or when you return to the office. In fact, if you are not already taking a strategic approach to planning your work, learning these skills to stay on track from home will translate back into the office environment for improved efficiency.
This new way of accomplishing your work goals gives you the opportunity to reevaluate your procedures and conventional ways of doing your work. Team and individual meetings can also become more efficient by focusing on good meeting discipline which often disappears in the live setting. Consciously building in human contact is critical both to fight isolation and to encourage more effective teamwork when you return to the office. 
Why you should Attend
If you have rarely on never worked from home, the first days or even weeks can be disorienting. Social isolation for many is even worse than the lack of immediate access to teammates, supervisors, stakeholders, and non-human resources. Even in this digital age, making sure you have the right office equipment and supplies can be frustrating. If your job was not technology intensive in the office setting, suddenly having to deal with a balky printer, overloaded Internet connection, or novel app or software adds to the stress of functioning outside your comfort zone.
This webinar will explore all these areas. The content is based on what we have learned over many years from working from home and building on the experience of tens of thousands of people worldwide who have been doing this for over a decade or more. Learn how to set up your home office, avoid the predictable pitfalls, and maximize your results, while making the most of the unique setting. If you are managing people in this new environment, learn how to develop work plans and conduct review and evaluation sessions optimized for this situation.
What you learn can be applied once you return to a more familiar environment. Turn the anti-teamwork situation into one which encourages engagement through virtual team building. Develop the strong sense of accountability any team needs to function through interactive virtual team sessions. Learn to thrive in the working-from-home world, not just survive until things return to "normal." Discover and enjoy the benefits of working from home. Decide which elements you want to maintain.
Areas Covered in the Session
Assess your strengths and challenges working from home
Understand how your personality preferences affect your strengths and challenges
Solve communication challenges working from home
Develop a plan to maximize strengths, minimize challenges
What are the common pitfalls, distractions, and stressors of working from home? Which ones need actions on your plan?
Guidelines for separating home and work life
Set up a productive home office
Apply your work style to setting up your "office"
What equipment and support will you need?
Logistics and reality check
Manage work strategically
Dump the To-Do list
Use a mission-driven plan
Focus on results not activity
Streamline procedures and processes
Optimize technology use
Effective virtual meetings
Eliminate bad meeting habits
Focus on results and action
Avoid work-from-home temptations and traps
Create your own "office rules"
The dangerous lure of multi-tasking
Develop accountability with teammates or team you manage
Approaches to improve accountability
Develop team accountability rules
Assess team accountability and other key team functions
Create your full transition and mission driven work plan
Evaluate progress against plan
Continue to improve
Include personal interactions and communication
Enjoy working from home
Identify benefits
Apply benefits back in the office
Is the workplace forever changed?

Who Will Benefit
Anyone working from home for the first time
Anyone managing someone working from home for the first time
Anyone with limited experience working from home
Anyone with limited experience managing "distant" workforce
HR personnel developing work-from-home guidelines

Speaker Profile
Rebecca Staton-Reinstein Ph.D., and President of Advantage Leadership, Inc. works with leaders and their organizations to Increase your bottom-line results through strategic leadership, engaged employees, and delighted customers in all economic sectors. Draw on her proven ability to mentor you through major change, customizing successful solutions to your complex issues.

For over 25 years, Rebecca has contributed value as an executive, manager, educator, and consultant, honored on four continents. She is a Ph.D. in organizational development, a National Speakers Association Legacy Professional Member, and St. Petersburg Engineering Academy Foreign Member and author of books on strategic leadership and planning.