The use of this seal confirms that this activity has met HR Certification Institutes (HRCI) criteria for recertification credit pre-approval.
This activity has been approved for 1 HR (General) recertification credit hours toward aPHR, PHR, PHRca, SPHR, GPHR, PHRi and SPHRi recertification through HR Certification Institute (HRCI). Please make note of the activity ID number on your recertification application form. For more information about certification or recertification, please visit the HR Certification Institute website at www.hrci.org." ...more
---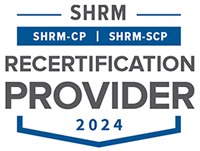 Traininng.com LLC is recognized by SHRM to offer Professional Development Credits (PDCs) for the SHRM-CP® or SHRM-SCP®.
?
1-hour educational program = 1 PDC.
1-hour and 15 minute concurrent conference session = 1.25 PDCs.
3-hour e-learning course = 3 PDCs.
Overview
Achieving the transformation and breakthrough results we want for our organization requires more than just hiring and training great people based on their job expectations and then holding them accountable during their year-end review. This transformation, at the core, begins with the capability we really need as an organization to own the intersection between driving impact both internally and externally. This needs to be built on ownership - not just engagement. In this session, we will immerse VPs, directors, and managers into the three critical factors to build organizational capability.

Organizational leaders will leave this session with a plan for how to build the future of their workforce through a strategic discipline to focus on the organization first and how that intersects the dynamic shifts in our customers and marketplaces. 

Why you should Attend
Now more than ever, it is critical to understand and align what is Really Most Important™ in our culture, strategy, and capability to ensure stability and progression in these unprecedented and unpredictable times. Too many businesses are waiting to see what happens, being reactive during this pandemic crisis and work from home conversion, instead of being proactive and creating an action plan to develop their people in a way where individual capabilities grow into departmental capabilities that impact the top line results and bottom line profits of the business.
Areas Covered in the Session
Value Creation: Transform your business model and infrastructure so that it's built on what is Really Most Important™ in your four cornerstones: [1] in your marketplace, [2] for your customers, [3] within your organization, and [4] with your people.
Solution Delivery: Design experiences that ensure you are implementing solutions for our stakeholders that foster inclusion, belonging, and shared purpose.
Results Generation: Uncover how to achieve immediate impact in the organization while building long-term enterprise value—no matter the scale of your initiatives.

Who Will Benefit
Executives and leaders: VPs, Directors, and Managers
Training or People Development VPs, Directors, and Managers
Human Resource VPs, Directors, and Managers

Speaker Profile
Jack Gottlieb is a highly accomplished senior executive with two decades of proven high-level success in building and turning around organizations to achieve their optimal potential and performance. He is the founder and Chief Executive Officer of the Total Solutions Group, a strategic consulting and results-based training firm. TSG brings a distinct capability and breakthrough thinking in culture transformation, strategic planning, growth, M&A integration, leadership development (executive level down to first-time managers), and change management.
Jack has driven $2.75 billion in ROI for their clients in growth, profitability, innovation, and efficiency. This includes helping to lead 15 M&As and ten turnarounds from inception to implementation while starting four new business units. Some of his clients are Gaming Labs International, Bosch, Johnson Controls, Mountain America Credit Union, Microsoft, Novartis, and Genentech.
Some of the transformation TSG has achieved includes: ? Growth: Led the cultural and strategic transformation of a global market leader to have the operating and leadership structure needed to be more decisive, agile, and future-ready, further strengthening its core business line and integrating four new business verticals. The overall global impact was a 125% increase in revenue and a 17% increase in EBITDA. ? Capability: Helped take a $5 billion organization and double it to $10 billion in 18 months (less than their initial 10-year projection). This involved the transformation and integration of their business model and a re-engineered approach to talent development on building capability - not developing skills. ? Culture: Transformed a Fortune 100 global company's Silicon Valley site (12 business units and 7 corporate research departments) by building and activating a site identity, culture, and strategy to fully align the teams on driving greater impact, innovation, and growth to measurably "Make Life Better" while leading the global future of their organization.
Outside of work, Jack lives with his family in Jackson, NJ. Jack and his son Brandon are diehard Philadelphia Eagles fans. His wife, Jennifer, and daughter, Allison, are NY Giants Fans. That is an in-house culture problem all to itself, so he has an obvious passion for culture-driven solutions.