The use of this seal confirms that this activity has met HR Certification Institutes (HRCI) criteria for recertification credit pre-approval.
This activity has been approved for 1 HR (General) recertification credit hours toward aPHR, PHR, PHRca, SPHR, GPHR, PHRi and SPHRi recertification through HR Certification Institute (HRCI). Please make note of the activity ID number on your recertification application form. For more information about certification or recertification, please visit the HR Certification Institute website at www.hrci.org." ...more
---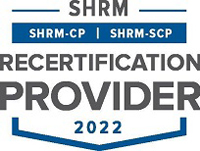 Viewing this webinar, its entirety qualifies for a recertification credit hour that may be counted toward SHRM-CP and SHRM-SCP recertification from SHRM. Credit is awarded based on the actual educational time spent in the program.
?
1-hour educational program = 1 PDC.
1-hour and 15 minute concurrent conference session = 1.25 PDCs.
3-hour e-learning course = 3 PDCs.
Overview
A Leadership Strategy makes explicit the leadership skills and behaviors needed to achieve an organization's success; it becomes a powerful lever for driving business performance.
Leadership Strategy =  numbers, types, skills, and developmental processes to have leaders in place and aligned with the strategic business drivers and goals.
Leadership Strategy =  Talent Systems, Leadership Culture  and Organizational Design that influences
Leadership selection
Development
Succession
Rewards
Leadership Strategy = What you and others will do to create the capabilities your organization must possess to achieve your vision.
Four Key Questions
What are your major Business Challenges?
What is your Business Strategy to address these challenges?
What Leadership Behaviors and skills are needed for implementing the business strategy?
Where  are the GAPS in leadership and organizational capabilities that need to be addressed?


Why you should Attend
Companies where strategy implementation has been less than stellar in the past
Companies where major change initiatives have struggle to take hold
Companies that are beginning a new strategic planning phase and want to improve their chances of successful implementation
Companies that are addressing culture change challenges
HR Profession that wants a stronger voice at the Executive table


Areas Covered in the Session
Leaders as Architects
What talent moves do you need to make?
What development opportunities are you going to provide so that things get better?
How must your culture change?
What needs to be different about the design of your organization or processes?
How are we going to make these changes happen?
Who Will Benefit
Any manager who's realm is of strategic importance to the organization, Anyone who leads a strategic project, process, or initiative
Anyone responsible for creating part or all of an organization strategy 
Senior HR leadership
Speaker Profile
Henry W. Browning is the Founder and Principle of Idaho & Fitzgerald. With over 35 years of experience designing client-specific development initiatives and programs, Henry has been able to build incredible capacity in the areas of individual leadership development, team development, and organization development. He has designed initiatives for organizations from almost every major industry and had the privilege to work for business headquartered all over the world. This client experience has given Henry a unique ability to empathize with a company's particular strategic intent and their pain points as they try to achieve success.

In his previous positions with the Center for Creative Leadership, Henry served as Greensboro's Director of their flag-ship program, Leadership Development Program (LDP). He also served as the Director of Team Development helping to create the organization's work in High-Performance Teams. He became the first Lead Faculty in CCL's Healthcare Leadership Vertical, a group specifically set up to understand the needs of healthcare leaders as the industry rolled out the Affordable Care Act. He was the Center's first Global Solutions Faculty. In his final position, Henry served as a senior design faculty with the Center's newly formed Commercialization & Innovation Group.

Henry has honed his design skills in two separate stents with the Center: From 1992 to 2002, and again from 2005 to 2019. In between these two periods, Henry was the Executive Director for a $6 million internationally recognized not-for-profit educational institution.

As a process-oriented consultant and educator, Henry is most often found designing, delivering, and facilitating training programs that accent diversity, team learning, and whole-systems thinking. He focuses his practice on understanding group dynamics in teams, team leadership, and leadership excellence.