The use of this seal confirms that this activity has met HR Certification Institutes (HRCI) criteria for recertification credit pre-approval.
This activity has been approved for 1 HR (General) recertification credit hours toward aPHR, PHR, PHRca, SPHR, GPHR, PHRi and SPHRi recertification through HR Certification Institute (HRCI). Please make note of the activity ID number on your recertification application form. For more information about certification or recertification, please visit the HR Certification Institute website at www.hrci.org." ...more
---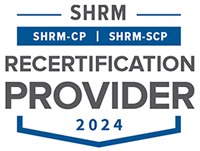 Traininng.com LLC is recognized by SHRM to offer Professional Development Credits (PDCs) for the SHRM-CP® or SHRM-SCP®.
?
1-hour educational program = 1 PDC.
1-hour and 15 minute concurrent conference session = 1.25 PDCs.
3-hour e-learning course = 3 PDCs.
Overview
We operate in a paperless environment. Internal controls are more critical in a paperless environment. During COVID-19 companies have deployed employee in remote locations. This "work from anywhere" WFA environment makes internal controls more difficult as events & activities are not performed in central locations. We must rely on technology to combine them to a central platform. Accounts payable is moving to a transactions-based processing environment to replace the outdated documents processing environment. It all starts with accounts payable since it is at the core of all other company processes, systems & functions. Hence accounts payable must drive all internal control elements of awareness and concern. 80% of all transactions are processed through accounts payable. COVID-19 has caused a significant increase in fraud waste & misuse. Robust internal control policies and procedures must the created to cope with the transactions-based accounts payable
COVID-19 has created situations that will remain in a revamped environment. We must take the lessons learned during COVID-19 to re-imagine processes & internal controls in a post COVID-19 environment. The transactions-based environment requires companies to be proactive rather than reactive and interact with transactions in real time to achieve the goals of internal controls
Why you should Attend
This Webinar looks at best practices in accounts payable to include:
Institutional framework
Foundation & Core Principles
Best Procession Practices
Interactions & Interfaces
Technology as an Enables
Organizational & Functional Awareness
COVID-19 Concerns & Challenges
Impact of "work from anywhere" environment
Technology as an enabler to transactions-based processes & inhibitors to fraud waste & misuse accelerated under COVID-19 "work from anywhere" environment
Areas Covered in the Session
Defined approval authority
Separation of duties
Rotating process responsibilities
Maximize technical tools
In-process approval & verification
Control of assets & assigned responsibility
Data management & file retention
Independent verifications
All in a technology based paperless platform
COVID-19 concerns & challenges
Technology as an enabler to transactions based
Who Will Benefit
Accounts Payables
Accounting
Supervisory Personnel
Financial Stakeholders Responsible for Accounts Payable
Speaker Profile
Carl Young is an Author, Speaker, Trainer, Consultant, and Coach. He holds a MBA and completed graduate studies in Accounting and Taxation. He is a former CFO of a 275M, high growth technology based company. He has over 25 years of senior level business management experience. In addition, he has over 25 years of training experience in finance, accounting and business management. Former CEO of his own small parts manufacturing company as well as former Senior Financial Associate of major consulting firm.

Carl is a member of the following organizations: American Society of Corporate Controllers, Council of Experts (investment firm Gersen & Lehrman), Society of Industry Leaders (sponsored by Standard & Poors), and the National Association of Accountants.

An engaging and entertaining speaker and trainer who draws from his experience as a former CFO to make relevant teaching points. Sessions are rich in content, lively, full of energy and include plenty of audience interaction. He has branded himself as Mr. Simplicity! His goal is to make finance and accounting relevant to non-financial professionals using tools and techniques that are simple to understand and apply.