The use of this seal confirms that this activity has met HR Certification Institutes (HRCI) criteria for recertification credit pre-approval.
This activity has been approved for 1 HR (General) recertification credit hours toward aPHR, PHR, PHRca, SPHR, GPHR, PHRi and SPHRi recertification through HR Certification Institute (HRCI). Please make note of the activity ID number on your recertification application form. For more information about certification or recertification, please visit the HR Certification Institute website at www.hrci.org." ...more
---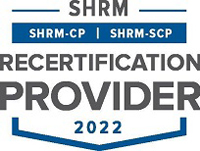 Viewing this webinar, its entirety qualifies for a recertification credit hour that may be counted toward SHRM-CP and SHRM-SCP recertification from SHRM. Credit is awarded based on the actual educational time spent in the program.
?
1-hour educational program = 1 PDC.
1-hour and 15 minute concurrent conference session = 1.25 PDCs.
3-hour e-learning course = 3 PDCs.
Overview
This topic will identify diversity, equity, and inclusion gaps within organization and create a more meaningful, systemic change towards more equitable working environment.
We will explore how stereotypes are maintained by biases in the attributions of behavior. We plan to discuss the development of biases for or against an individual, a group, or a belief. We will discuss the true meaning of equality and equity and how the two have different paths for achieving success between races, sexes, social classes, and more.  
We plan to have participants discover what diversity and inclusion can look like at their organization.  During this discussion we will ask all participates to review and analyze their organization's diversity and inclusion mission if they even have one. We hope to transform one's mindset from understanding diversity and inclusion by healing from past errors and creating action to drive a more affirmed diverse and inclusive workplace by discovering a successful DEI program within an organization.  

Why you should Attend
If you are ready to make a transformation within your life and career, then you need to listen to the Transformation Strategist.  This topic will identify diversity, equity, and inclusion gaps within organization and create a more meaningful, systemic change towards more equitable environment.
The more we all can know about DEI helps every one of us show up each day without fear of being less than.  If you are ready to take a higher degree of engagement, productivity, and innovation to gain a more comprehensive understanding in promoting diversity and inclusion in your workplace and in schools, then this training is for you.
Our goal is to introduce tools to analyze your organization's diversity and inclusion mission, as well as how to be aware of expectations for underrepresented groups.  

Areas Covered in the Session
Diversity
Stereotypes
Biases
Equity
Equality
Inclusion
Transformation
Healing

Who Will Benefit
Professionals
Supervisors
Managers
Executives
Anyone

Speaker Profile
Hiram and Gina White are Transformation Strategists who assist people in making a profound change to live their best life. They are a husband and wife team that gives a male and female perspective on life and living.

Hiram is a certified trainer in Diversity, Equity & Inclusion and has combined his passion for peak performance with his M.A. in Community Counseling, speaking about issues related to equity and inclusion, conflict resolution, career advancement, self esteem and impactful transformation.

Hiram has used his proven transformation strategies in his own life and career, becoming a leading Employee Assistance Professional certified in Critical Incident Stress Management Debriefing, Counselor, Adjunct Psychology Professor and government administrator. Gina is a human resource professional by trade; she spent years honing her expertise in strategic planning, organizational administration, leadership and personal enrichment. Gina has served as a featured speaker/presenter at events providing guidance on financial literacy, leadership, mentorship, diversity and human resource training.

Gina's partnered with organizations to speak to groups on a variety of issues affecting women and youth, including goal setting, college preparation, self-esteem, relationships and career advisement.

Together, Hiram and Gina host the weekly T.H.A.T Life podcast discussing topics ranging from relationships, spirituality, education, career advancement and pop culture.