The use of this seal confirms that this activity has met HR Certification Institutes (HRCI) criteria for recertification credit pre-approval.
This activity has been approved for 1 HR (General) recertification credit hours toward aPHR, PHR, PHRca, SPHR, GPHR, PHRi and SPHRi recertification through HR Certification Institute (HRCI). Please make note of the activity ID number on your recertification application form. For more information about certification or recertification, please visit the HR Certification Institute website at www.hrci.org." ...more
---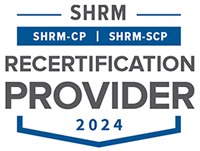 Traininng.com LLC is recognized by SHRM to offer Professional Development Credits (PDCs) for the SHRM-CP® or SHRM-SCP®.
?
1-hour educational program = 1 PDC.
1-hour and 15 minute concurrent conference session = 1.25 PDCs.
3-hour e-learning course = 3 PDCs.
Overview
The training is designed to ensure your organization is fully compliant with laws and regulations, compliance, training, and additional areas to consider related to local and state regulations.
Specific guidance on federal laws, postings, documentation, and employee expectations. Understand policies and procedures and proper communication. As laws evolve, so should your organization.
Why you should Attend
Specific guidance on federal laws, postings, documentation, and employee expectations. Understand policies and procedures and proper communication. As laws evolve, so should your organization.
Family Medical Leave Act Updates: With the recent changes to FMLA related to the pandemic, it is a good time to review and update this section as required under both federal and state law. Remember, the federal leave and poster does have an expiration date, but those dates can always be extended. This will include any Paid Family Leave and FFCRA. Remember the FFCRA does expire on December 31, 2020, but that does not mean it's going away.  
State Required Sick Leave: New York State passed similar paid sick leave laws that have been required in New York City for a number of years. The effective date is January 1, 2021, regardless of the unanswered questions many organizations currently have. Organizations need to be aware of these requirements and update policies, payroll systems, and handbooks. I would encourage every organization to review PTO, sick leave, personal leave, and vacation policies as well. For any paid or unpaid leave, I recommend organizations review call-in notices and procedures. Also, reviewing attendance policies is encouraged during this review.
Equal Employment Opportunity & ADA Language: States have adopted equal pay, hairstyle discrimination, etc. that will impact your EEO policy statements. I encourage all organizations to review and update these sections as needed. The law continues to evolve related to equal employment and disability accommodations and discrimination. This should be reviewed annually.  New York State passed changes that should be reviewed and updated.
Drug-Free Workplace & Testing Policies: Another section I encourage you to review in relation to the EEO and ADA language, as states and cities are adopting specific laws around pre-employment marijuana testing. Understand these requirements, and DOT laws (if applicable) and update accordingly. Continue to watch for medicinal and recreational marijuana legislation across the country, this includes no pre-employment testing legislation.  
Pandemic Policy or Handbook Language: I think we have all learned from this experience and will be better prepared moving forward. I encourage all organizations to update or create a section on a pandemic or an organization-wide shutdown. This can include any paid or unpaid leave language, including how seniority and accruals might be impacted.
Sexual Harassment: Laws in New York State have changed related to the state-recommended sexual harassment policy and reporting time. This language should have been updated earlier in 2020.  However, it is important for us to review and update.
At-Will Employment Language: Ensure this section is clearly communicated and understood by all employees. It should stand out in the handbook and handbook or policy signoff section. I write this into the handbook, the employee signature page, and the sexual harassment policy signoff.
Telecommuting Policy: Implementing a telecommuting or flexible work policy is necessary if your organization has employees working remotely. I recommend having employees sign off on this policy.
Areas Covered in the Session
Completing
Retention Period
Helpful Links
Common Mistakes
Legal Issues
Auditing Forms
Communication
Why it is important
Relevance to your organization
5-10 minutes on question and answers
I will accept calls and emails
I will share the PPT slides
Who Will Benefit
Human Resources Professionals
Small Business Owners
Non-Profit Administrators
General Managers
Office Managers
Payroll Professionals
Lawmakers
Attorneys
Accounting Professionals
Consultants
Labor Unions
Professors, Instructors, and Trainers
Speaker Profile
Matthew Burr has over 16-years of experience working in the human resources field, starting his career as an Industrial Relations Intern at Kennedy Valve Manufacturing to most recently founding and managing a human resource consulting company; Burr Consulting, LLC, Talentscape, LLC and Co-Owner of Labor Love, a Labor, and Employment Law poster printing company. Prior to founding the consulting firm, the majority of his career was heavy industry manufacturing and healthcare.

He specializes in compliance auditing, training labor and employment law, conflict resolution, performance management, labor, and employment relations. Matthew has a generalist background in HR and operations, while providing strategic HR and operational solutions to his clients, focusing on small and medium sized organizations. He works as an Adjunct at Alfred State University, Tompkins Cortland Community College, and The College of St. Rose.

He successfully designed an HR Concentration in the business management major that aligned with both SHRM and HRCI certifications, providing opportunities for students to sit for both the SHRM-CP and aPHR certifications upon completion of the degree, concentration, and internship hours as an Assistant Professor of Management at Elmira College (Retired January 2022). Matthew is also the SHRM Certification Exam Instructor, with a current pass rate of 92% on the SHRM-SCP and 83% pass rate on the SHRM-CP and a combined 88% on both exams over a 7-year period of instructing the course (Elmira College, Collin College & The College of St. Rose).

Matthew works as a trainer Tompkins Cortland Community College, Corning Community College, Broome Community College, and HR Instructor for Certification Preparation for the Human Resource Certification Institute (HRCI). He also acts as an On-Call Mediator and Factfinder through the Public Employment Relations Board in New York State, working with public sector employers and labor unions.

PUBLICATIONS: Matthew has publications at the American Bar Association (ABA) Experience Magazine, Cornell HR Review, Business Insider, New York State Bar Association (NYSBA), PayScale, Society of Human Resource Management (SHRM), and Expert 360 (in Australia). In early 2017, he published his first book, "$74,000 in 24 Months: How I killed my student loans (and you can too!)," proceeded by his second book, which was published in January 2021, "Slay the Student Loan Dragon: Tips and Tricks on How to Conquer the Student Loan Game"

VOLUNTEER WORK: Matthew is currently the New York State Society of Human Resource Management (NYSSHRM) District-Director Elect.

EDUCATION & TRAINING:

Additional Training & Development:

SHRM Workplace Coaching and Mentoring Recertification Program, 2020
SHRM Foundation Employing Abilities @Work Certificate, 2020
SHRM Foundation Veterans at Work Certificate Program, 2018
Delta County Chamber of Commerce: Delta Force Leadership Program, 2013

FEATURED IN & ON:
Matthew was featured on CNN Money, Fast Company, Fits Small Business, Fox News, Magnify Money, Monster.com, My Twin Tiers, Namely, Student Loan Hero, Smart Sheet and CEO Blog Nation, Human Resource Certification Institute (HRCI), Society of Human Resource Management (SHRM).