The use of this seal confirms that this activity has met HR Certification Institutes (HRCI) criteria for recertification credit pre-approval.
This activity has been approved for 1 HR (General) recertification credit hours toward aPHR, PHR, PHRca, SPHR, GPHR, PHRi and SPHRi recertification through HR Certification Institute (HRCI). Please make note of the activity ID number on your recertification application form. For more information about certification or recertification, please visit the HR Certification Institute website at www.hrci.org." ...more
---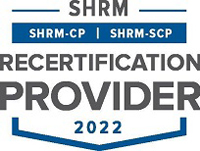 Viewing this webinar, its entirety qualifies for a recertification credit hour that may be counted toward SHRM-CP and SHRM-SCP recertification from SHRM. Credit is awarded based on the actual educational time spent in the program.
?
1-hour educational program = 1 PDC.
1-hour and 15 minute concurrent conference session = 1.25 PDCs.
3-hour e-learning course = 3 PDCs.
Overview
This webinar will break down the pages and pages of the FY 2021 Hospice Final Rule into digestible portions you can manage and apply in your agency. You'll learn which new regulatory requirements apply and when they become mandatory. You'll receive an update on the annual payment rates that affect your agency's bottom line. You'll hear the latest on what CMS plans to scrutinize in the upcoming fiscal year. You will be better prepared all-around to face FY2021 with confidence.
Why you should Attend
Chances are that you're too busy to read and study the FY2021 Hospice Final Rule in its entirety. I get it. But no matter, you still must follow all of its new rules for documentation, quality reporting and anything else CMS throws in. And you must be aware of the payment changes to determine how they'll affect your bottom line. 

Let me simplify this complex document for you.

In this webinar, I'll boil down the details to present the highlights of the FY2021 Final Rule in a nutshell to give you the basics you need to succeed. Then you can use the information to study further in the areas important to your agency.
Areas Covered in the Session
Explain new regulatory requirements for hospice agencies in FY2021
Break down quality reporting requirements that change for FY2021
Highlight payment changes in effect for FY2021
Provide guidance for success in implementing new requirements
Warn of potential pitfalls
Teach about proposed rule and final rule cycle that occurs annually
Who Will Benefit
Hospice Owners
Administrators
Clinical Managers and other Clinical Professionals
Quality Staff
Speaker Profile
Beth Noyce, RN, BSJMC, HCS-C, is a Home Health and Hospice Consultant, mentor, and educator drawing on her varied leadership and patient-care hospice & home health experience since 1997.

Beth was Executive Director of both the Utah Hospice and Palliative Care Organization and the Utah Association for Home Care in 2018 and 2019. She has served as a Medicare Administrative Contractor medical reviewer, presented for NAHC, UHPCO, AHPCO, UAHC, DecisionHealth's Coding Summit, AHCC's Home Health Compliance and Quality Outcomes Conference, HealthCare Synergy, Kinnser, WellSky, HealthWare, Audio Educator, has taught seminars with colleagues, consults for GLG, and creates and presents her own education programs. Beth was a hospice and home health associate with The Corridor Group and with Pinnacle Enterprise Risk Consulting Services and has edited and written study guides and questions for industry coding and compliance certification exams, hospice & home health on-line courses, has published in Diagnosis Coding Pro, and helped edit a Diagnosis Coding Manual for DecisionHealth.