The use of this seal confirms that this activity has met HR Certification Institutes (HRCI) criteria for recertification credit pre-approval.
This activity has been approved for 1.5 HR (General) recertification credit hours toward aPHR, PHR, PHRca, SPHR, GPHR, PHRi and SPHRi recertification through HR Certification Institute (HRCI). Please make note of the activity ID number on your recertification application form. For more information about certification or recertification, please visit the HR Certification Institute website at www.hrci.org." ...more
---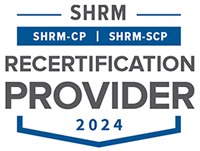 Traininng.com LLC is recognized by SHRM to offer Professional Development Credits (PDCs) for the SHRM-CP® or SHRM-SCP®.
?
1-hour educational program = 1 PDC.
1-hour and 15 minute concurrent conference session = 1.25 PDCs.
3-hour e-learning course = 3 PDCs.
Overview
This course is mandatory for managers and supervisors in companies having 50 or 15 or more employees. In California it has now changed to five (5) or more and other states will follow. The definition of employee has been greatly enlarged to include contractors, part-time workers, and some others. Training of supervisors and managers is required at least every two years.
Thus, it is strongly recommended that you provide training to all employees at least annually no matter how many you consider your head count. It only takes two people to have a behavior reported as either sexual harassment, bullying, or discrimination
Why you should Attend
Discover the laws governing workplace protections from harassment, bullying and discrimination in the workplace
Identify the specific requirements of the number of employees and what constitutes an employee under the law for this purpose and how often you need to offer the training
Explore the many examples of behaviors that need to be analyzed and make your own decisions regarding them
Identify things such as adverse treatment and adverse impact
Discover types of harassment, bullying and discrimination and what you can and cannot allow in the workplace
Recognize the more subtle forms of harassment, bullying and discrimination ( such as hostile work environment and third party harassment) and learn how to respond to them
Identify ways to investigate, sanction and offer remedies stopping all inappropriate behaviors

Areas Covered in the Session
We cover the laws and examples of abuse, bullying, discrimination, harassment (sexual and otherwise) and the rights of the victim.
Finally, we offer information about handling complaints including how to treat the accused and possible remedies for the victim.
Many examples of behaviors that could be construed as either appropriate or inappropriate - depending on the point of view of those involved will be offered as well as examples of clear inappropriate behaviors. In addition to harassment and discrimination we define and discuss abusive behaviors - bullying, teasing, exploitation.
We not only discuss these in detail but also help you understand the nuances and protections for people who gender identify differently from what is specified on their birth certificate.
Who Will Benefit
HR Professionals
Training Professionals
Senior Vice President
Vice President
Managing Director
Regional Vice President
Project Managers
Directors
Chief Learning Officer

Speaker Profile
Dr. ArLyne Diamond, Ph.D. is an internationally recognized Leadership, Management, Professional Development, and Organizational Development (O-D) consultant specializing in people and processes in the workplace. Multifaceted, Dr. Diamond has extensive experience in a wide range of disciplines (business, education, management, marketing, business ownership, psychology - and some economics and law as well). This enables her to see things from a variety of angles and to cleave to the essence of a problem quickly, offering her clients creative and practical solutions.

As the President and Founder of her consulting firm, Diamond Associates, which was established in 1981, Dr. Diamond's clients range from boards of directors and upper management to support staff in many industries, both public and private. This includes small business and professional practices, corporations, associations, service/charity organizations and government agencies (including police and fire). She works with individuals, teams and large groups. Dr. Diamond trains Boards of Directors and teaches several courses to board members and those striving for board appointments.

She is well known for her skill in large and small group process, including workshops in strategic planning, change management, conflict resolution, system streamlining, communication, management of people and projects, as well as board of directors development, committee and team training.

Her executive consulting/coaching and mentoring of individuals includes helping new CEOs grow into their position and learn how to create and work with executive teams, stakeholders, and others in their organization.

Dr. Diamond teaches a wide range of MBA university courses in Business, Organizational Development, Quality, Change Management, Persuasion/Negotiation, Marketing, and Leadership.

Born into a family and culture of service to others, ArLyne has been involved with many associations, service and charity organizations. She is currently active in politics, Rotary, and ProMatch, an organization dedicated to helping those out of work, where she offers workshops and a weekly drop-in helping people with finding themselves, resumes, interview skills and landing the job.

A prolific writer, she has published hundreds of articles and four books. In addition, Dr. Diamond publishes a monthly newsletter, "Diamonds to You" and is a guest writer for several newspapers.

Dr. Diamond is offering on-line courses through Proformative Academy. Her published books are: Training Your Board of Directors: A Manual for the CEOs, Board Members. Administrators and Executives of Corporations, Associations, Non-Profit and Religious Organizations. The "Please" and "Thank You" of Fund-Raising for Non-Profits Conflict in the Workplace: Causes and Cures Leading and Managing a Global Workforce She is currently completing two other books: one will be Roles and Responsibilities in the Workplace - which will accompany employee handbooks - and the other is Understanding the Culture of Company and Country. She has completed the research for a third book, Managing for Creativity.

she appears on radio and television and speaks to associations and community organization on a wide range of topics. Her style is informal, friendly, and informative.