The use of this seal confirms that this activity has met HR Certification Institutes (HRCI) criteria for recertification credit pre-approval.
This activity has been approved for 1.5 HR (General) recertification credit hours toward aPHR, PHR, PHRca, SPHR, GPHR, PHRi and SPHRi recertification through HR Certification Institute (HRCI). Please make note of the activity ID number on your recertification application form. For more information about certification or recertification, please visit the HR Certification Institute website at www.hrci.org." ...more
---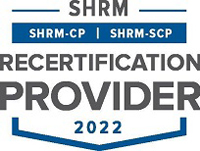 Viewing this webinar, its entirety qualifies for a recertification credit hour that may be counted toward SHRM-CP and SHRM-SCP recertification from SHRM. Credit is awarded based on the actual educational time spent in the program.
?
1-hour educational program = 1 PDC.
1-hour and 15 minute concurrent conference session = 1.25 PDCs.
3-hour e-learning course = 3 PDCs.
Overview
As a graduate student at Case Western University, Davide Cooperrider had access to study the organizational behavior at the renowned Cleveland Clinic. What he discovered was that the hospital engaged change management consultants who were not telling the hospital what it was doing right, rather they focused on what was wrong with the processes, procedures, and practiced the hospital used in its daily routines. Pointing out the problems did not bring the organization any closer to a valid solution. Cooperrider decided to turn the process inside out and began observing and interviewing staff regarding what the hospital was doing right.
Cooperrider and his adviser published a paper in 1987 which posited that the overuse of "problem solving" hampered any kind of social improvement, and what was needed were new methods of inquiry that would help generate new ideas and models for how to organize. The authors portrayed organizations as living organisms, arguing that organizations are created, maintained and changed by conversations (interchanges between people), and claiming that the way organizations evolved was only limited by people's imaginations and the agreements among them. This theory was inclusive and encompassed every person in the organization.
The model is based on the assumption that the questions we ask will tend to focus our attention in a particular direction, that organizations evolve in the direction of the questions they most persistently and passionately ask.[11] In the mid 80's most methods of assessing and evaluating a situation and then proposing solutions were based on a deficiency model, predominantly asking questions such as "What are the problems?", "What's wrong?" or "What needs to be fixed?". Instead of asking "What's the problem?", others couched the question in terms of "challenges", which still focused on the negative, on what needs to be fixed or solved.
Appreciative Inquiry was the first researched change management method to pay attention to what works, the positive "core" in people and organizations, and on what people really care about. Today, these ways of approaching organizational change are commonly understood, but frequently not practiced. Furthermore, the focus on the positive has made its way into Positive Psychology as mapped out by Martin Segilman, at University of Pennsylvania. However, while Positive Psychology is defined as a science, Appreciative Inquiry is designed as an organization change and leadership development process. It is widely used as a basis for much solution focused exeutive coaching.
In addition to the five phases as defined above, there are five basic principles of AI. As the study of AI progressed, many other principles emerged, but below are the five original principles as outlined by Cooperrider and Dianna Whatley.
The five principles of AI are:
The constructionist principle Through the language and discourse of day to day interactions, people co-construct the organizations they inhabit. The purpose of inquiry is to stimulate new ideas, stories and images that generate new possibilities for action
The principle of simultaneity proposes that as we inquire into human systems we change them and the seeds of change, the things people think and talk about, what they discover and learn, are implicit in the very first questions asked. Questions are never neutral, they have consequence, and social systems move in the direction of the questions that people most persistently and passionately discuss
The poetic principle proposes that organizational life is expressed in the stories people tell each other every day, and the story of the organization is constantly being co-authored. The words and topics chosen for inquiry have an impact far beyond just the words themselves. They invoke sentiments, understandings, and worlds of meaning. Storytelling has become a key element of change management as well as a discipline of its own
The anticipatory principle posits that what we do today is guided by our image of the future. Appreciative inquiry uses artful creation of positive imagery on a collective basis to refashion anticipatory reality
The positive principle proposes that momentum and sustainable change requires positive emotion and social bonding. Sentiments like hope, excitement, inspiration, camaraderie and joy increase creativity, openness to new ideas and people, and promote flexibility. They also encourage strong connections and relationships among people, particularly groups in conflict
Delving into these principles and there applications will not be explored in detail in this course due to time constraints.
Why you should Attend
Are the change management techniques you've used so far effective? Are you beginning your efforts with an affirmative topic, rather than a problem-solution approach? How long lasting are your change management efforts, two years, one year, six months, or worse? Now you can implement positive change in your organization by simply changing the focus from problems to solutions employees can solve by asking the right questions.
Appreciative Inquiry assists the organization in seeing the wholeness of the human system and to "inquire" into that system's strengths, possibilities, and successes."
The five areas of exploration in Appreciative Inquiry are: Define, Discover, Dream, Design and Deliver.
In the Define phase, an affirmative topic is determined. In the Discover phase, the team expresses appreciation for the best of "what is" by focusing on peak times of excellence - when the team has experienced performance at its most effective and its very best. The Dream Phase is: Practical, because it's grounded in successes of the past. It seeks to expand the teams' potential. And it's based on extraordinary moments from the teams' entire history. For the Design Phase, encourage the team to generate possibility statements. The possibility statements describe the desired qualities of the teams' life.
The Delivery Phase, the focus is on implementing the possibilities. It's where the team creates their "'will be" and takes action to make it happen.
Appreciative Inquiry as change management is a dramatic departure from traditional problem-solving methods. It develops empathy and perspective, constructive or positive change, and drastically improves communication and collaboration.
How is that accomplished? Through shifting the approach from problem focused to positive-action focused. Rather than ask: "What is that biggest problem here? "ask, " What are you doing when things are working well?".
If your organization is stuck in making progress toward positive change, Appreciative Inquiry can help you get there.
Areas Covered in the Session
Introduction
Overview of the Course
Overview of David Cooperrider's work
Brief history of the origins of the technique
Definitions of Appreciative Inquiry and Relation to Positive Psychology
Characteristics of Great AI Questions
The Five-D Process
The Five Core Principles of Appreciative Inquiry
Who Will Benefit
HR Generalists
HR Administrators
CHROs
VPs of HR
HR Directors
HR Professionals
Coaches
Managers
VPs
Directors
Key Personnel
Speaker Profile
Mary T. O'Sullivan,International Coach FederationMaster of Science, Organizational Leadership, ,- PCC, Society of Human Resource Management – SHRM-SCP, Master's Certificate in Executive and Professional Career Coaching, University of Texas at Dallas. Member Beta Gamma Sigma, the International Honor Society. Advanced Studies in Education from SUNY Oswego and Syracuse University.

Mary O'Sullivan has over 30 years' experience in the aerospace and defense industry, with large corporate entities. In each of her roles, she acted as a change agent, moving teams and individuals from status quo to new ways of thinking, through offering solutions focused on changing behaviors and fostering growth. In addition, Mary holds a permanent teaching certificate in the State of New York for secondary education, and taught high school English for 10 years in the Syracuse, NY area